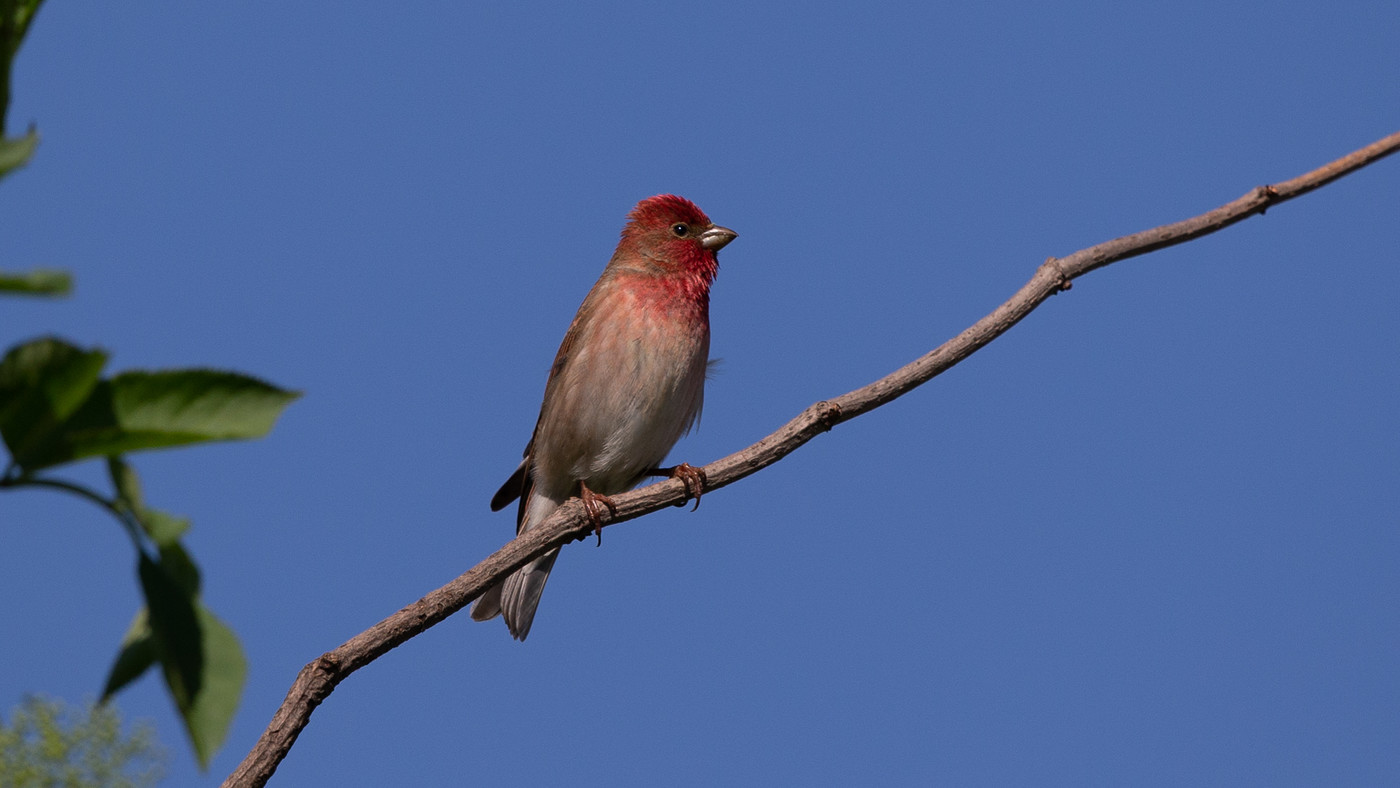 It was a beautiful day and the Common Rosefinch that sat all week in Limburg is easy to approach. A great opportunity to try out the new camera. Around 9 o'clock I drove towards Montfort where the Common Rosefinch was reported.
Upon arrival it took a while before the bird emerged but that was more than compensated. He immediately came down at 4 meters in a bush and began to sing. With beautiful light in the back the camera began to rattle. The pictures looked good on the screen of the camera. The bird flew a little further away and now my first Common Blue this year was put on the photo. This also applies to a Small Copper that was seen some later.
After a while the Rosefinch came back and was now very close at a reed stem. Despite the wind which blew the stem up and down again nice plates were made. He was also still sitting on the fence here. For me it was enough and a reported Greenish Warbler near Venlo caught my attention. The message sounded good, the bird was heard singing and was also seen. From here it was only 35 km so I quickly went back to the car.
At the place of the Greenish Warbler various birders were searching and it looked just not good. However, the bird was quickly found back in a different place. We quickly walked to the reported location and in the distance I heard the bird singing. The bird moved quickly and unfortunately there were no photo opportunities. I stayed a little longer but the bird was not heard or seen again. A few kilometres away there were two European Serins, as Herman vd Brand told me. This still counts for my month list and I found one of the birds very quickly.
It was now 4 pm and I drove home to get some food. Then I drove to the Biesbos for a Thrush Nightingale that is present for some time now. At arrival I immediately heard the bird singing and with the phone sound recordings were made. During the serenade I also heard a lot of Cetti's Warblers sing. The Thrush Nightingale counts for the month list and was a good ending of a nice day.