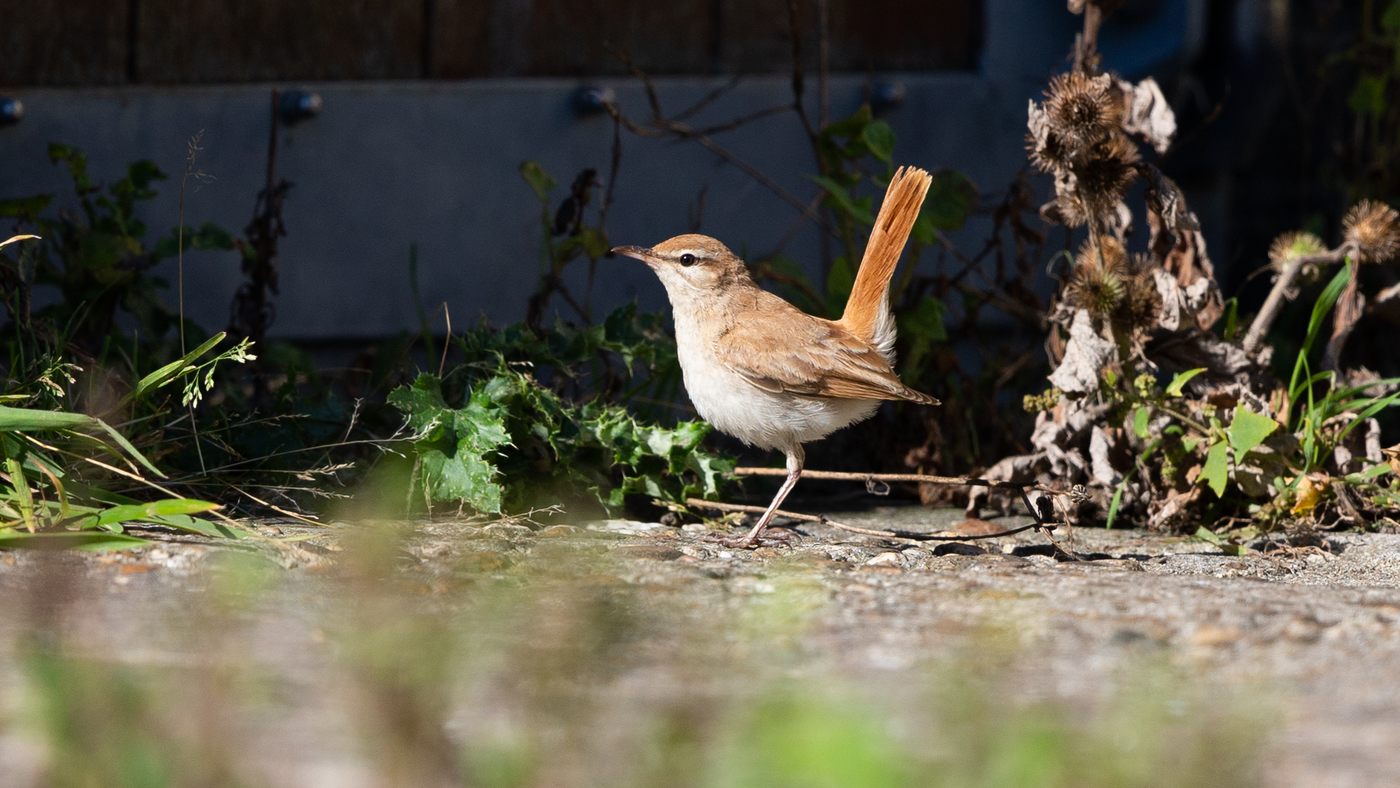 Yesterday I sat behind the PC after enjoying some of the pictures of the Arctic Warbler and Long-legged Buzzard. Suddenly I received an app of a picture of a possible Rufous-tailed Scrub Robin on the forum of waarneming.nl. Quickly I have a look and indeed the picture is a real Rufous-tailed Scrub Robin! That means I have to get up early tomorrow....
The alarm clock is set on half past four and at half eleven I go to sleep. The next morning, dressed in smart suit, I leave Uden. I had my first appointment at 11am so it was exciting. The ride went well without traffic jams and at half past six I parked the car near Camperduin where the bird was reported. After a short walk I joined some birders who were also present. We stood on the spot where the bird was seen yesterday and that offered no shelter from the cold wind. If the bird is still here was the question?
A little further were some bushes near a farm, which looked better and I doubted to move over there. The birders were now flocking and Pieter and Maartje had also arrived. It was getting lighter and not much was happening until a call came from the place near the bushes that the bird was seen here. The group moved quickly to the place and here at short distance was indeed the Rufous-tailed Scrub Robin, what a MEGA bam! Despite the low light I could shoot some pictures until the bird was disturbed by a car that drove of the yard of the farm. The woman in the car was shocked to see at least 200 birders who were here.
It was not long before the Rufous-tailed Scrub Robin came back, but now he was a bit further. Congratulations were handed around and there was a euphoric mood However, the bird did not come closer and flew after a while behind the farm out of sight. For me this was the signal to go because I had to go working. The Rufous-tailed Scrub Robin brings my Dutch list to 407 species!