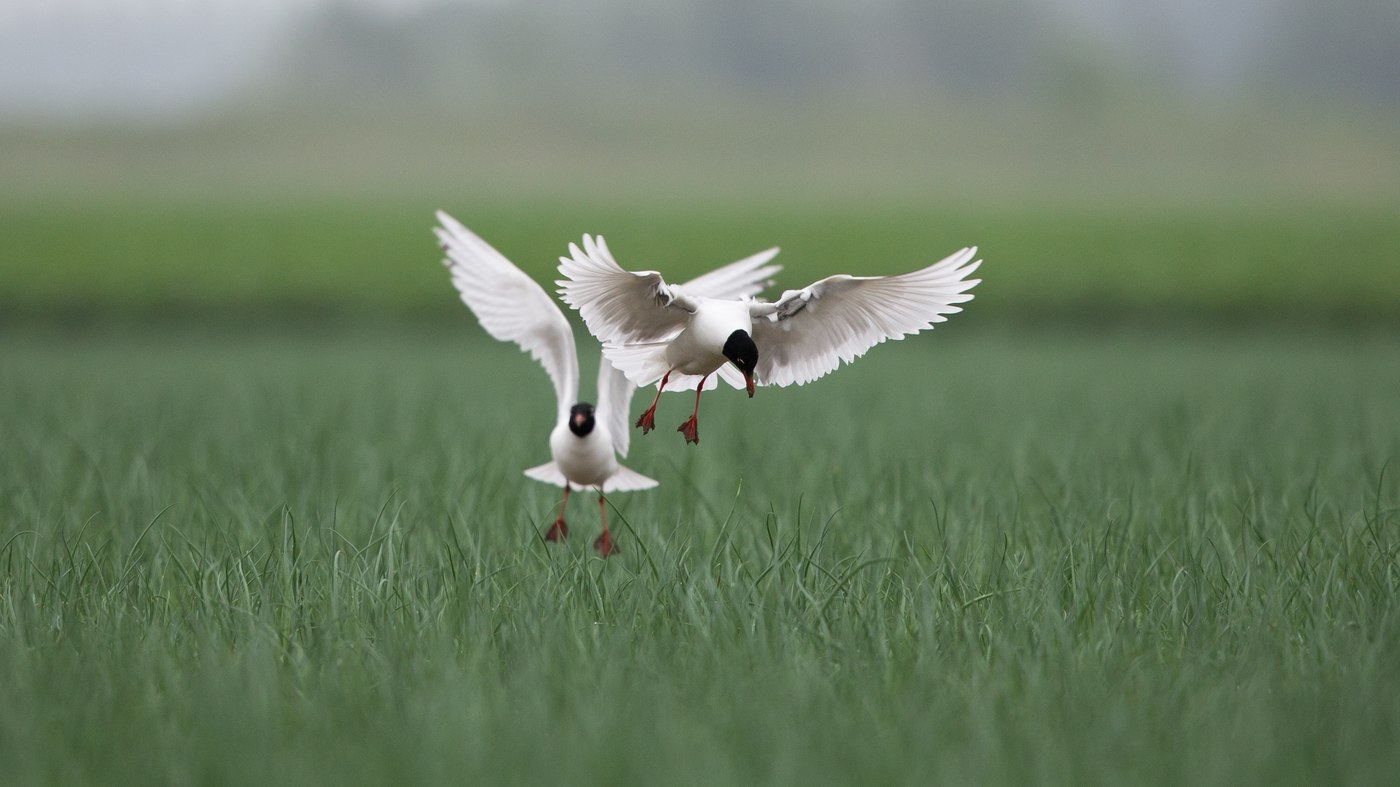 With not many options in the Netherlands we chose today for the province of Zeeland with the aim of a Zitting Cisticola in the Drowned Land of Saeftinghe. Then we would continue in Zeeland and wait for an interesting sighting somewhere in the Netherlands. Along with Pieter and Maartje we arrived in the Verdronken Land van Saeftinghe around 9 am.
It was overcast and there was a stiff breeze and our chances of a Zitting Cisticola was virtually nil. However, we walked a big round which indeed yielded nothing. We tried another place but again no Zitting Cisticola. The sneaky hope of a Short-eared Owl also did not come out. After brief consultation we decided to drive to the Sophiapolder. Along the way it started to rain and it seemed it was going to be a lost day. By a number of road closures we had to drive small roads and so we found a field that was full of Mediterranean Gulls. We counted at least 55 birds that indulgence themselves with earthworms that were apparently up for grabs. Before we drove on there were some nice pictures taken.
The Sophiapolder did not reveal much and we drove on to De Blikken. The Little Owl was searched without success. When parking near the hide a Short-eared Owl flew up, this was a fluke because I needed it for the month list. From the hut a Green Sandpiper was put on the photo but otherwise is was also quiet here. We left Zeeuws Vlaanderen through the tunnel and drove to Westkapelle. Here we watched an hour over sea and next to a couple of Scoters and a single Northern Gannet there was not much. Also Het Vroon was inspected but again there was nothing special found. The colony of Little Terns was a except for a few birds empty and it seems that this year is not a good breeding season.
We drove on to the Scherpenissepolder and along the way we stopped at the Karrenvelden because here a Marsh Sandpiper was reported. The Marsh Sandpiper was not found and we drove quickly to the Scherpenissepolder. Here we found a few Kentish Plovers and the polder was full Black-tailed Godwits. It was now around 4 pm and we called it the day. With a day list of 88 species and one new for the month list we left Zeeland. With a dinner at Marc's BBQ we ended the day in style.