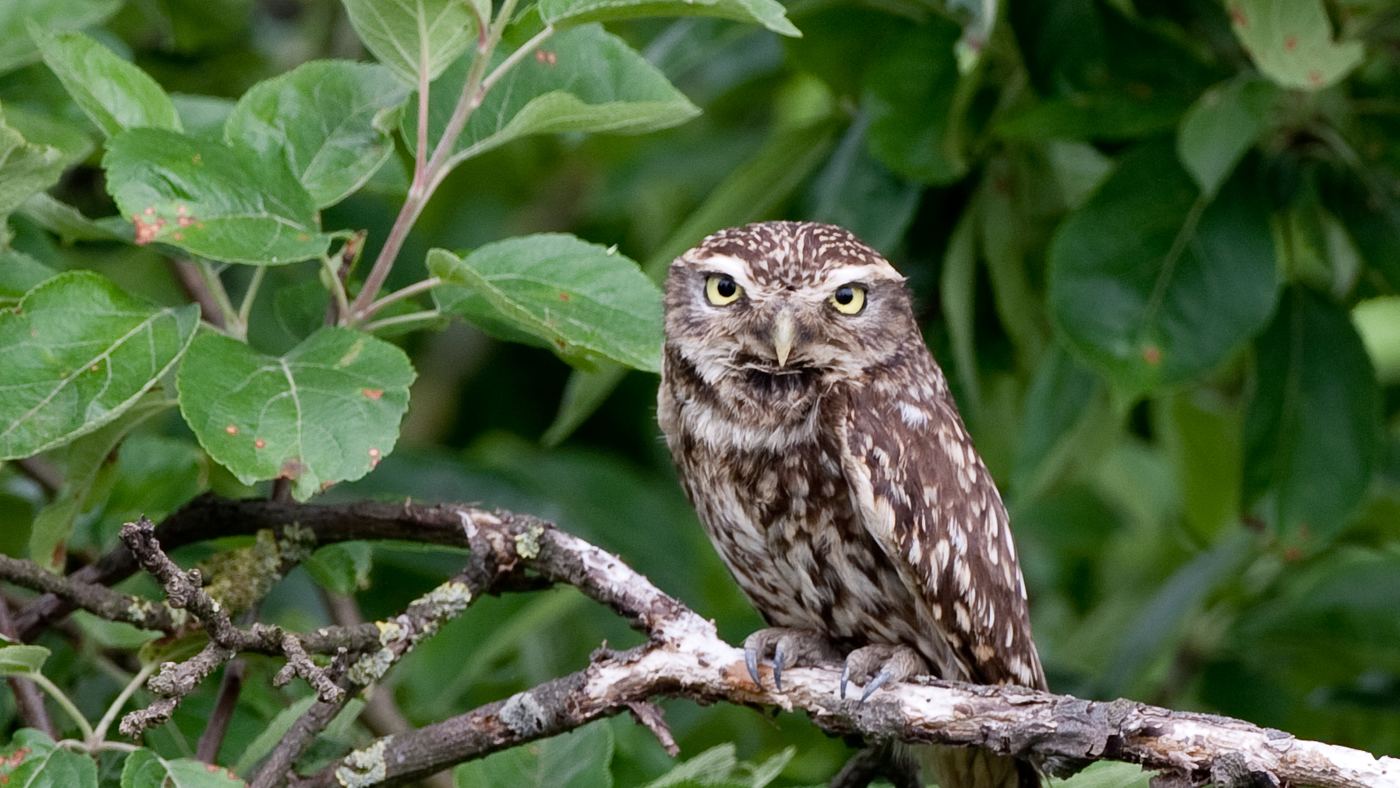 Little Owl | Athene noctua
A Yesterday reported Common Rosefinch and Roseate Tern were on the program today. Furthermore, we wanted to do a round of Zeeland. At five o'clock I stood by Jan Verhoeven and together we drove to Strijensas where the APL polder is located.
A Common Rosefinch is reported here since the 6th of June and I still have to get the bird on the list for this year. Halfway we had to stop for a cup of coffee and diesel. At 6:15 am we parked the car and walked into the area. Jan discovered a flying Red-crested Pochard (270) and I had not seen the bird this year. We walked over a bridge which gave access to the footpath where yesterday the Common Rosefinch was seen and heard. We had here some searching but finally found the place. Here we remained at least 1.5 hours walking around but lacking any trace of the Common Rosefinch. However, we had no regrets about being here because it is a beautiful area and I'll certainly go back there. We saw many Common Redstart and the Garden Warblers are very numerous. We heard an Icterine Warbler sing. We drove over to the Flauwers Inlaag where yesterday the Roseate Ternwas seen.
About 9 o'clock we arrived at the spot where the Roseate Tern had to be found. There were many Sandwich Terns and Common Terns but the Roseate Tern we could not detect. However, we found 2 Kentish Plovers with young, very nice. Two Mediterranean Gulls flew over and a Little Tern was also briefly on the spot. We waited until a message came from a Long-billed Dowitcher in the Sophia Polder (Zeeuws Flanders). We did not have to think long and almost immediately we left for the Polder Sophia. The trip went through Neeltje Jans to the Westerschelde tunnel. Approximately one hour later we were at the spot where the Long-billed Dowitcher was reported. After fifteen minutes of searching I found the Long-billed Dowitcher (271) between two Black-tailed Godwits. The bird was polishing itself and later disappeared in the tall grass. After fifteen minutes he came out and began to forage. The bird was still almost entirely in summer dress and was beautiful to see. Unfortunately too far for photos. The Long-billed Dowitcher was harassed by many other birds and it was not long before he flew up and sat down at the other side of the area. We looked a little further around and counted no less than 34 Black-necked Grebes. 14 Mediterranean Gulls were on the island and the ever-present Snow Goosewas found.
Little Owl | Athene noctua
We continued to the nature preserve area "De Blikken". From watch hut we saw many Avocets with young. 3 Little Ringed Plovers frequently quarrelled with each other and flew around. We left the cabin and drove to a place where you sometimes can see a Little Owl. We found the Little Owl almost immediately and he sat magnificent in the sunshine. Less than 5 meters away, I could make beautiful pictures. Next stop was a cabin number one. Beside a Little Tern we did not see much. Also the Kentish Plovers were not found. We drove on to the Braakman in the hope of a Zitting Cisticola. This was not found and we drove back to Sophia Polder in the hope that the Long-billed Dowitcher sat closer. We found the bird right back but now he was also too far away for a photo.
We drove back home at 3 o'clock with a day list of 90 species and two new species for the year. I am now at 271, still 29 to go.