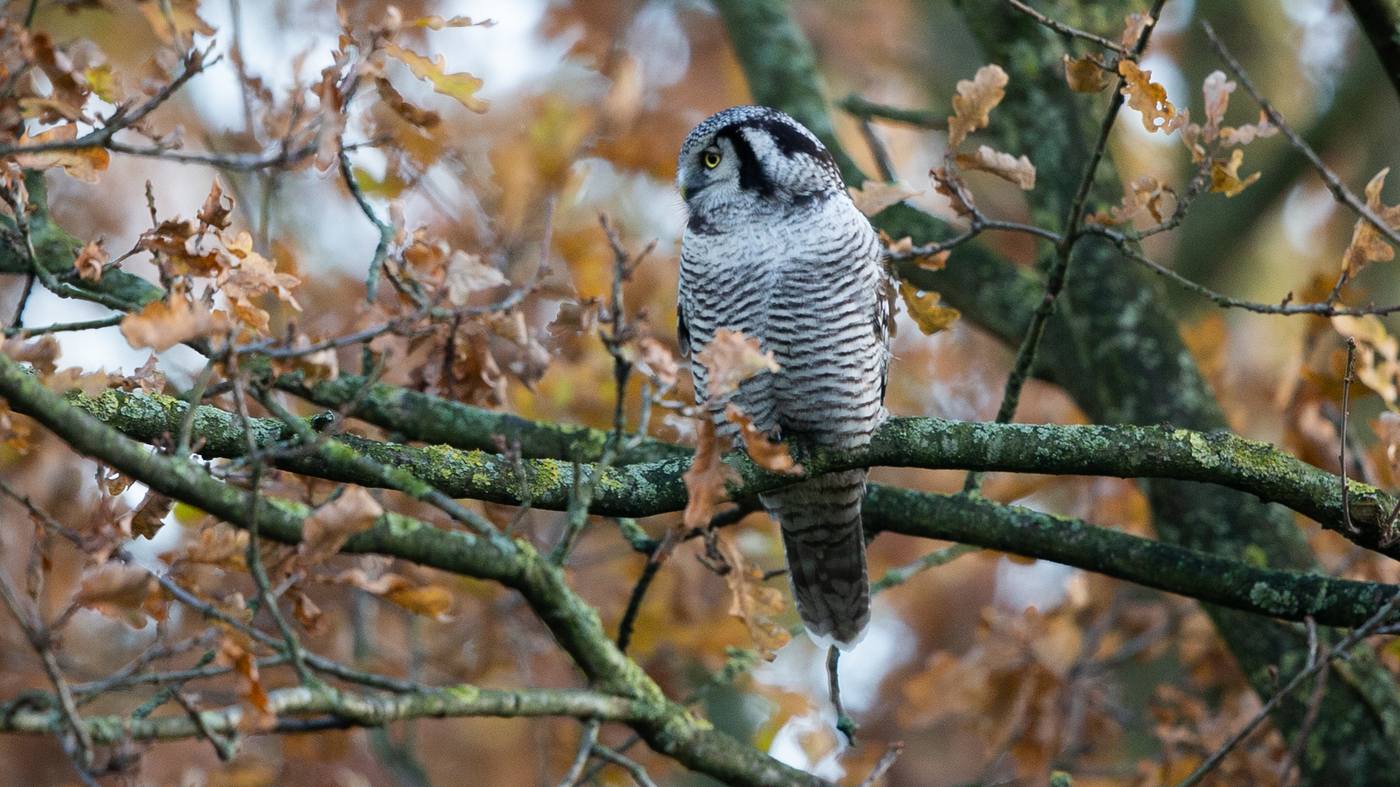 Northern Hawk-Owl | Surnia ulula
Sunday 24 November at about half past five came the report of a Northern Hawk-Owl through waarneming.nl. At the same place about a week and a half ago also a Northern Hawk-Owl was claimed. The observation had my attention and I advised Pieter to keep an eye on. The evening continued as normal until about eight o'clock when David Uit de Weerd reported the Northern Hawk-Owl as certain via DutchBird Alerts.
According to the report, the bird sat on a pile of the overhead of the trace near the IJsselallee in Zwolle. There was no longer any doubt so I grabbed my camera and got into the car for the ride to Zwolle. Along the way Pieter was informed and through our own app group I warned the others might they have missed the message. After about an hour I added myself to a large ever growing group of birders. The Northern Hawk-Owl was last seen in 2005, but was only there for 2 days. This meant that a number of birders have not yet seen the bird. In addition, there are only two other cases registered one on 2 April 1995 and the other dated October 5, 1920.
The Northern Hawk-Owl was sitting at a gas station and the parking lot began to flow pretty full here. Occasionally the police came by and even a van from the ME was taking pulse height. Several news channels including the NOS came on the announcement. Around half past eleven the bird flew away and was not seen again that night. Unfortunately for those who were in the way. Because of the dark conditions I could not take good pictures, but if the bird was still there tomorrow, I would go and try again.
The next day the bird was found again, but was now much further away in a green area with trees along the trail. I had taken the camera with me and after work in the afternoon I drove back to Zwolle. Upon arrival, the Northern Hawk-Owl was still sitting in the same place and it was very busy with birders and again some news channels. I now managed to make to make nice pictures. The Northern Hawk-Owl makes my Dutch list grow to 411 species!