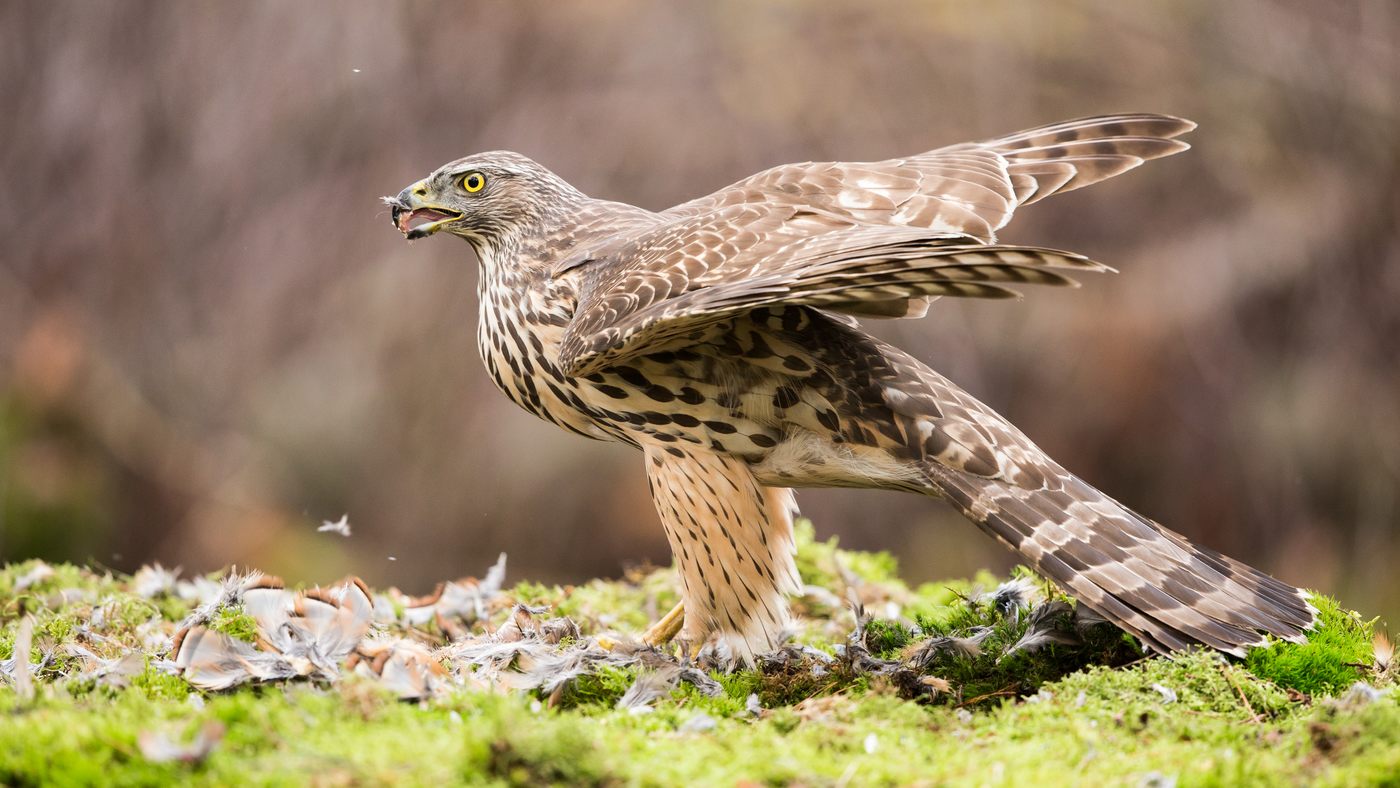 Lately regular pictures appear on the Internet of Northern Goshawks photographed from a hut near Oss. Willie de Vries had a share in the construction of the hut and asked me if I wanted to have a go.
On Monday, the weather seemed to be better than at the weekend and at 8.15 am it was agreed to be at Willie's place in Oss. From there we drove to the hut, a ride of only fifteen minutes. Here the owner of the hut, Alexander Buil, would meat us and spent the rest of the day with us. After a short walk we arrived at the cabin that was pretty hidden in the forest. There were already several Tits and Goldcrests present.
In front of the hut was a pond and behind it a place where a prey could be placed for the main attraction, the Northern Goshawk. Regularly there are 4 Goshawks at the hut, two young birds and the older couple. The other bird food was placed, this all took about half an hour to complete. Then we sat down with three of us in the cabin.
At first there were some Nuthatches on the feed and these could be put at a short distance on the photo. A Willow Tit posed nicely and some Great Spotted Woodpeckers were seen. Despite the dim light there already were fun pictures taken. Sometimes there was panic and we thought the Goshawk was coming but this was a false alarm every time.
Bathing Great and Blue Tits presented some photo fun. It was now well past noon when we saw a Goshawk fly over but descended far away. Here the bird perched and called a lot but did not come to the hut. A Coal Tit arrived at the feeding place but was playing hard to get on the picture.
Finally around 3 pm suddenly a young female Goshawk landed at the prey. The bird looked at first shy around to see if the coast was clear. We had been given instructions only to start shooting when the Goshawk began to eat. This did not last long and the three cameras started to rattle. The Goshawk didn't mind and was completely at ease.
The bird gave a wonderful show that lasted about 20 minutes. Eventually she managed to unleash the prey, which was tied, and flew off with it. The adrenaline level slumped back in the hut. A new prey was put down but to no avail. Around 4 am the light was so bad that we decided to stop. It was my first time in a bird hide, but I think it's going to happen once more.