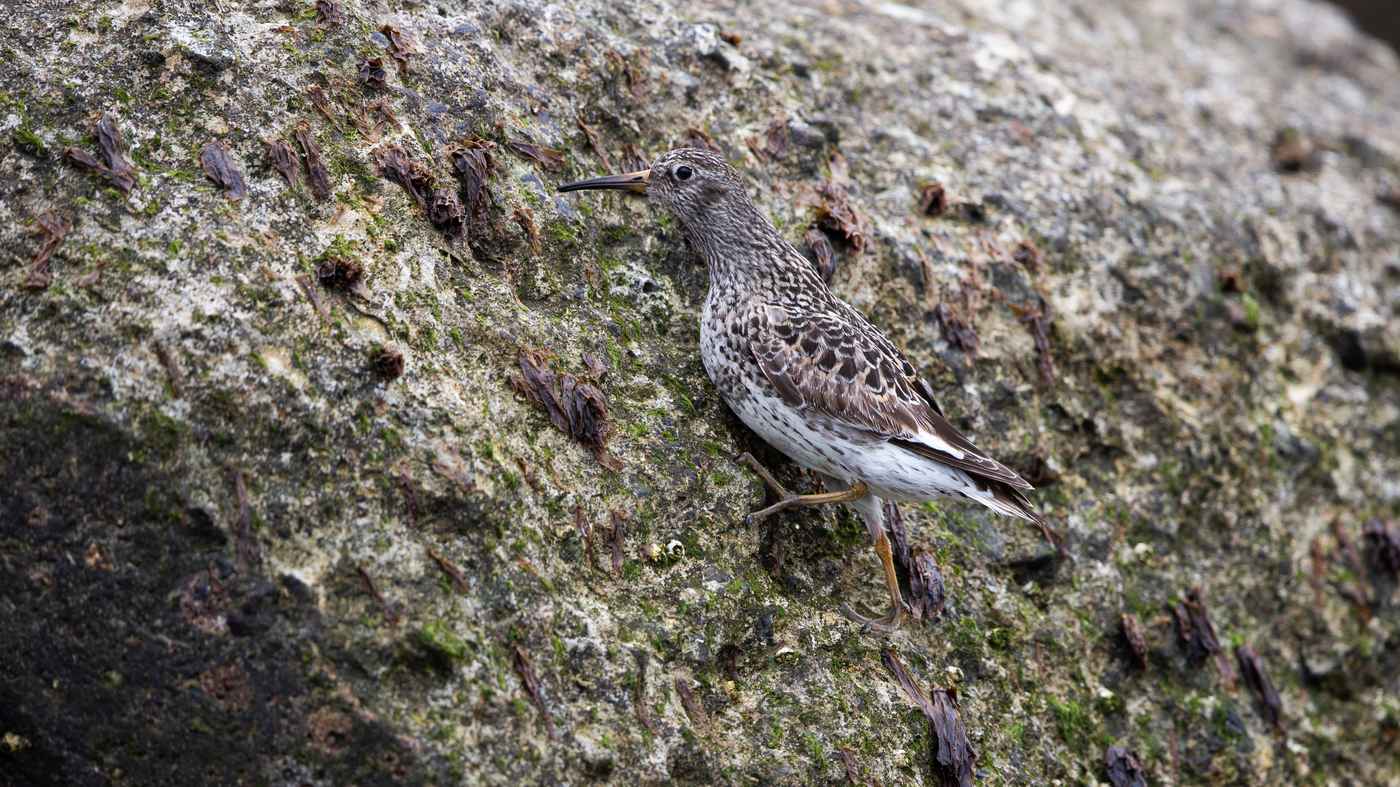 Purple Sandpiper | Calidris maritima
Sunday was in the context of the month list. A list was drawn up together with Pieter: Smew, Goldeneye, Purple Sandpiper, Corn Crake, Long-tailed Duck and Shag. We decided to start in the Flevopolder with the Corn Crake which still counts for my year list. At 7 o'clock I picked up Pieter and Maartje at a carpool place in Huizen and we drove to Lelystad. Here a Corn Crake was heard immediately when we arrived. This was very easy and we drove to a spot for a Smew.
At the Harderbos this bird is regularly reported but he (it's a male) is not always in the same place. First we visited the spot where he was most commonly seen but to no avail. The second place, at a golf course, also was not with success. Instead we found a beautiful male Montagu's Harrier who had caught a mouse. We drove back to the Harderbos and took a walk to the Captain's cabin, here again was no Smew. We walked to another pond where the bird was sometimes reported but nothing was found. We had actually given up a bit when we saw a Smew swimming in a ditch near the car. This was a fluke and we drank a cup of coffee relieved.
We talked about what to do and the choice fell on a Common Goldeneye sitting at a pumping station near Medemblik. After a ride of 45 minutes the car was parked and we walked up the dike. Pieter quickly found a female Common Goldeneye. A very large Tufted Duck caught my attention and this proved to be a female Greater Scaup. This bird still counts for my month list and happy I reported the bird on the Internet. We now proceeded to IJmuiden where we first wanted to try a Shag and then move on to the south pier for the Long-tailed Duck and Purple Sandpiper. The Shag was found quickly and we drove to the South Pier. The Long-tailed Duck was untraceable and we walked down the pier. More than halfway the pier I found a Purple Sandpiper which also was very photogenic. We searched the sea but there was not much more special. It was about 2 o'clock and with not many other options we would drive back to Huizen with an attempt for a Tawny Owl.
Except that there was a Lesser Yellowlegs reported in the Lauwersmeer. After a short deliberation we decided to take a chance. The route was set and the journey began. In the province of Noord-Holland we were plagued by road closures and it took a long time before we could turn up the A7. Then it went a lot faster. Somewhat to five o'clock we parked the car at a group of birders who had the Yellowlegs, at a distance, in view. So that counts! We said. Suddenly the wading birds flew up among them the Lesser Yellowlegs. When the birds landed they were a lot closer and there were some evidence pictures made. The Lesser Yellowlegs counts for both my year as a month list.
Before we drove home the McDonalds at Joure was visited. The day list was made and we had managed to score 99 species. The Purple Sandpiper, Smew, Greater Scaup and Lesser Yellowlegs count for the month list. The Corn Crake and Lesser Yellowlegs count for the year list which now stands at 275 species.