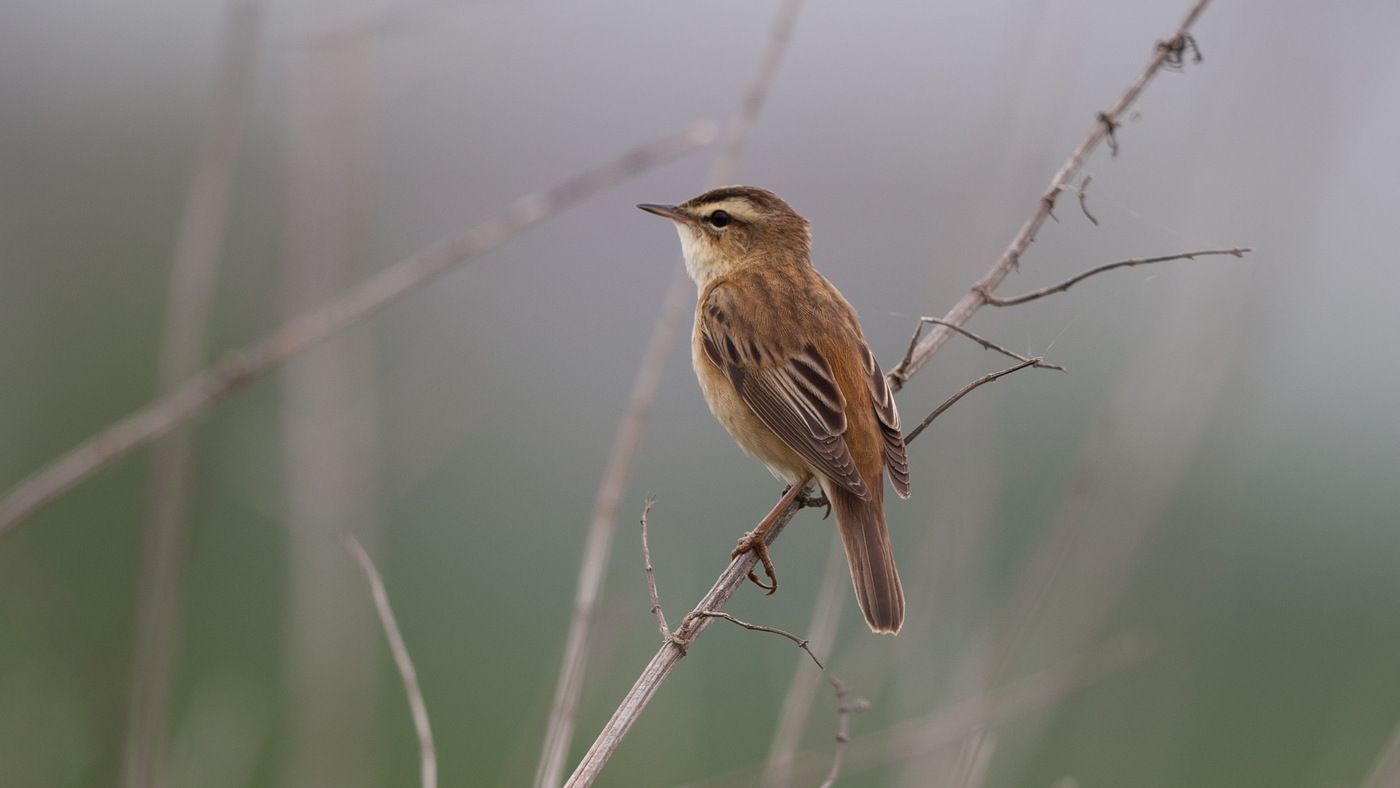 Sedge Warbler | Acrocephalus schoenobaenus
The death of Mary, my wife, is still very fresh but I have to go on. My family from Scotland left Sunday and only now I realize how quiet it has become at home. Mary had insisted that I had to go on and thus was with Alwin, Pieter and Maartje a Big Day agreed in the Northern provinces. I picked up Alwin at 0:30 am in Heumen and at 1.30 am we picked up Pieter and Maartje at a gas station near Staphorst.
We drove on to the Onlanden - Peizerwering where we expected a Baillon's Crake. Around 2:45 am we arrived here and to our surprise we heard the cry of a Little Crake. This was not expected and it was a beautiful opening of the day. We heard also several Spotted Crakes call and a singing Grasshopper Warbler was noted. A single call of a Baillon's Crake was heard by me but it was too quick to be sure. We have been waiting for some time for a Baillon's but to no avail. The present Folkert Jan Hoogstra knew another place for the Baillon's and he would show us the way. Along the way a Long-eared Owl was scored!
Folkert Jan took us to the Onlanden - Blue fens where we could immediately write down two courting Bitterns. A Savi's Warbler let his ratchet hear and occasionally we heard a courting Garganey. After a half hour wait we still had no Baillon's and we decided to go further. We said goodbye to Folkert Jan and set sail for the Dwingelderveld. After about 50 km drive we parked the car and almost immediately we heard a courting Nightjar. The Woodcock could be added to the list quickly and a calling Tawny Owl was gladly noted. The morning choir began slowly and we recorded Robin, Mistle Thrush and Golden Oriole. We waited until light began and began to walk. An expected Red-necked Grebe was found and also here we found a Spoonbill. During the walk, the following species were listed: Redstart, Common Whitethroat, Bluethroat, Tree Pipit, Great and- Blue Tit, Willow Tit, Spotted Flycatcher, Pied Flycatcher, Willow Warbler, Chiffchaff, Wren, Blackbird, Song Thrush, Stonechat, Treecreeper and Black Woodpecker.
A place for a Whooper Swan was visited without success and then we drove to Fochteloërveen. A Black-necked Grebe was found quickly and between the Black-headed Gulls Alwin found a second calendar year Mediterranean Gull. Also Whinchat was not lacking from the list and from the car we saw two Hobbies and our place for an Icterine Warbler delivered a singing bird. We drove on to the Aeckingerzand. Here, Woodlark, nuthatch, Stonechat, Green Woodpecker and Goldcrest were credited.
The next destination was the Zuidlaardermeer where again this year Whiskered Terns are breading. The steering was transferred to Alwin and after a ride of 60 km, the car was parked and we started to walk. Along the way, the first Reed Warbler of the day was noted. The Whiskered Terns were found in the same place as last year, I counted a total of about 20 pairs. It swarmed here from the Black-necked Grebes and Pieter counted no less than 50 copies! Furthermore, we recorded the Black Tern and a Penduline Tit was heard at the car park. An attempt for a Black-winged Stilt on the other side of the lake came to nothing.
En route to Eemshaven we saw a male Montagu's Harrier and yet we found Folkert Jan again. He knew a place for a European Serin which was visited, unfortunately the bird was found. Folkert Jan was also on his way to the Eemshaven and we decided to follow him. At the migration site, the North Cape, the telescopes were set up. Goal was a Terek Sandpiper which was seen here yesterday. After 10 minutes of searching Folkert Jan cried: I got him! And indeed not too far away was a beautiful Terek Sandpiper. This was not expected and a good specie for the Big Day. Furthermore, we saw Little Stint, Bar-tailed Godwit, Red Knot, Ruddy Turnstone, Avocet, Greenshank and Dunlin here. On a pole also a Merlin was found another good specie. In the Eemshaven itself the Common Terns colony was visited and here we found a few Arctic Terns.
We were now around 120 species and it was time to visit the Lauwersmeer. We started at the Coastal road where a Thrush Nightingale was heard in the morning, we did not manage to find the bird. Instead we heard a Lesser Whitethroat. The seaside was inspected and here we saw the Whimbrel, Great Black-backed Gull and Brent. In the Bantpolder we found no less than 21 Dotterels! We drove on to the Ezumakeeg now. In the southern part were Temmincks Stint, Wood Sandpiper, Ruff, Pied Wagtail, Hen Harrier and Curlew Sandpiper noted. A visit to the northern Keeg yielded no more new species.
It had become now around 8:00 pm and we thought it was enough. The stomachs also began to rumble and it was time for a snack. In the car the day list was made up, which yielded 143 species. Certainly not wrong and in between were 17 New Year species for me. The year list has grown to 256 species.