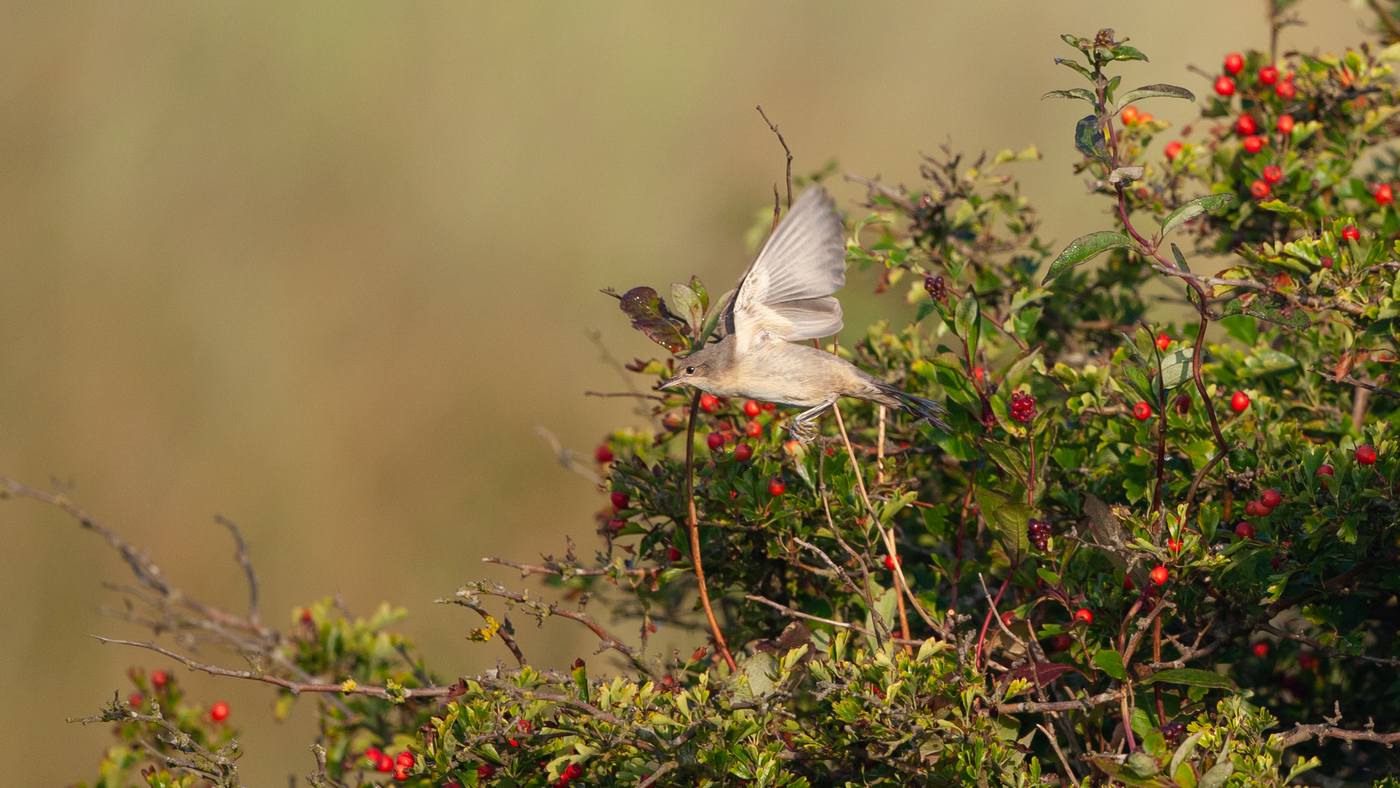 Barred Warbler | Sylvia nisoria
Yesterday my year list increased with a Crossbill and a Zitting Cisticola to 299 species. On the island of Texel yesterday there were 9 Barred Warblers reported and I still miss this species on the year list. A good chance today to get the 300 announced itself. Together with Pieter Doorn & Maartje I sat on the first boat at half past seven to Texel. There was a beautiful day predicted what weather is concerned and when we stood on the deck we witnessed a beautiful sunrise.
We drove straight to the Robbenjager were yesterday the most Barred Warblers were seen. It was not long before we saw a copy fly, the 300 was accomplished. We searched on and found a second bird that occasionally showed itself nice. Sometimes there was a photo opportunity, but the bird was very active. Meanwhile, a Lesser Whitethroat was seen that still counts for the month list. Suddenly the Barred Warbler sat almost free, fast photos were taken and when the bird flew away some nice flight plates were made. There were also a number of Dunnocks and one of them posed pretty in the morning sun.
We continued the search but found nothing more so we drove to "De Tuintjes". Here we hoped for a Grasshopper Warbler and a Pied Flycatcher and both birds still count for the month list. Unfortunately, neither of these birds were found, but we found a third Barred Warbler just past the migration site. This bird was very nervous but still I managed to get a couple of plates. "De Tuintjes" were good for many Whinchats, Stonechats and Northern Wheatears. At the spot where last year the Siberian Stonechat was seen we heard a short song twice with a strong reminiscent of a Greenish Warbler. After a long wait we saw or heard nothing of the bird.
Back at the car it was coffee time and there was a bite to eat. Then we drove to Utopia to inspect the mud flats. There were lots of Golden Plovers and Ringed Plovers. A Curlew Sandpiper and a Red Knot were found, further there was not much. We searched the sea mud flats in the hope of a Light-bellied Brent Goose but in vein. We drove on to the Hanenplas where a Red-backed Shrike was reported, this bird was found quickly. There were many Common Whitethroats here and we saw a suspected Barred Warbler. Unfortunately the bird was seen too briefly to be sure.
We drove back to the seaside and inspected the puddles on the inside of the dike. Also here were not many birds. It was now about half past one and with no more options we decided to leave the island and return home. This is the first time I reach the 300 species in the month of September. With a few good months to go, I am wondering whether I can break my personal record from last year which stands at 322 species.