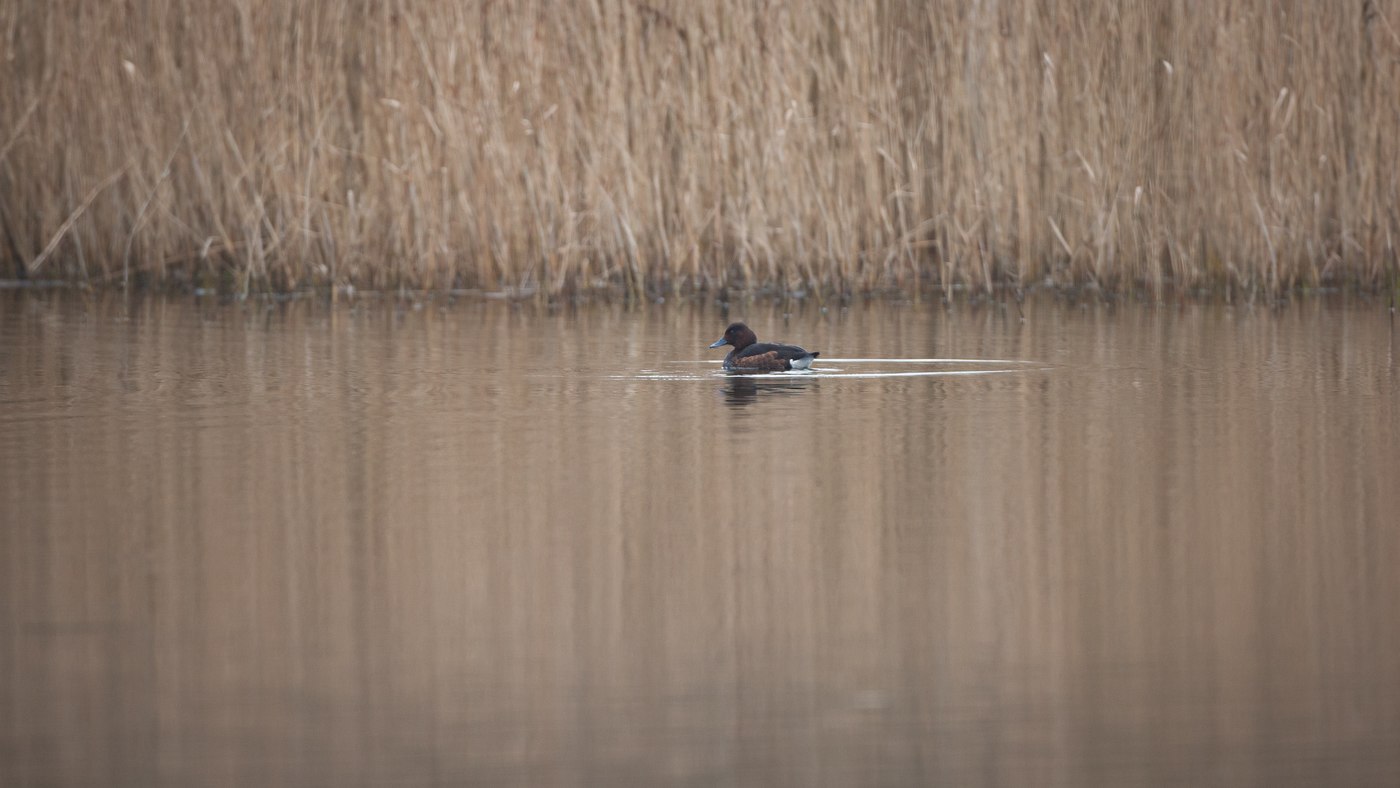 Ferruginous Duck | Aythya nyroca
The earlier visited Ferruginous Duck in Tegelen proved to be an escaped specimen and no pure race. A new report of a Ferruginous Duck in Flevoland made us decide to make a visit to Flevoland. Also a visit to the Sallandse Heuvelrug was on the day program.
At 6:15 I picked up Jan Verhoeven and together we drove to Baarn where we had agreed with Alwin. From here we drove further with one car. Around 8.30 am we arrived at the Sallandse Heuvelrug and started to walk to the courtship fields. The birds sung plenty and you can really feel that spring is approaching. However, on the moors it was quiet and of the Black Grouse was no trace. We walked a large round that took 2 hours but this did not reveal a Black Grouse either. However, large groups of Lapwings flew over us towards the north and we saw a Great Grey Shrike and a Bullfinch. We walked back to the car and found a Common Redpoll who was still missing for the year list.
Next stop was the Vossemeerdijk. Around this time of year it is possible to see Black-tailed Godwit here and it lay on the route. At the Vossemeer is a flat mud that is mostly dry and here are almost always wading birds present. Also this time it was full of Lapwings, Dunlin, and Eurasian Curlews. In between we found a Black-tailed Godwit and a Golden Plover. We continued to Biddinghuizen where the Ferruginous Duck was supposed to be. The duck was sitting on a pond in the middle of a forest. We parked the car and after a short walk we saw a birdwatcher with a telescope. The Ferruginous Duck was seen but was now hidden in the reeds. After some waiting she (it was a female) appeared. There were a few recordings for evidence and before we left we could also note a Water Rail.
At the Dodaarsweg 3 Corn Buntings are reported for some days now and no less than 4 Rough-legged Buzzards. This was the next destination. En route we stopped at the Harderbroek and saw 3 Red-crested Pochards who were among the many Tufted Ducks. At the Dodaarsweg there was a long line of cars with birdwatchers. We drove on to the site of the Corn Buntings and in a cold stiff breeze, we saw a Corn Bunting sitting in a treetop. We also saw a Yellowhammer what is a good species for the Flevopolder. We drove back to the line of cars and here we saw a Rough-legged Buzzard and a Hen Harrier. The Grote Praambult is 5 minutes away and this was the next destination. Here was a film crew of the VPRO working on a report. While interviewing a few birders a White-tailed Sea Eagle was discovered. This counts for the year list, and that goes also for a Raven that was discovered on a carcass. Furthermore it was quiet and we drove on to the cattle grids. The ever-present Rough-legged Buzzard was not present and turned in the Knardijk and stopped at the Bovenwater. There were not many ducks but we did find a Ruddy Duck.
It was getting later and finally, we wanted to try the Bitterns at the Jaap van Edenpad. Unfortunately they proved not present and it was time to go home. With a daylist of 84 species of which 6 new for the year it was not a bad day. The annual list has grown to 167 species.