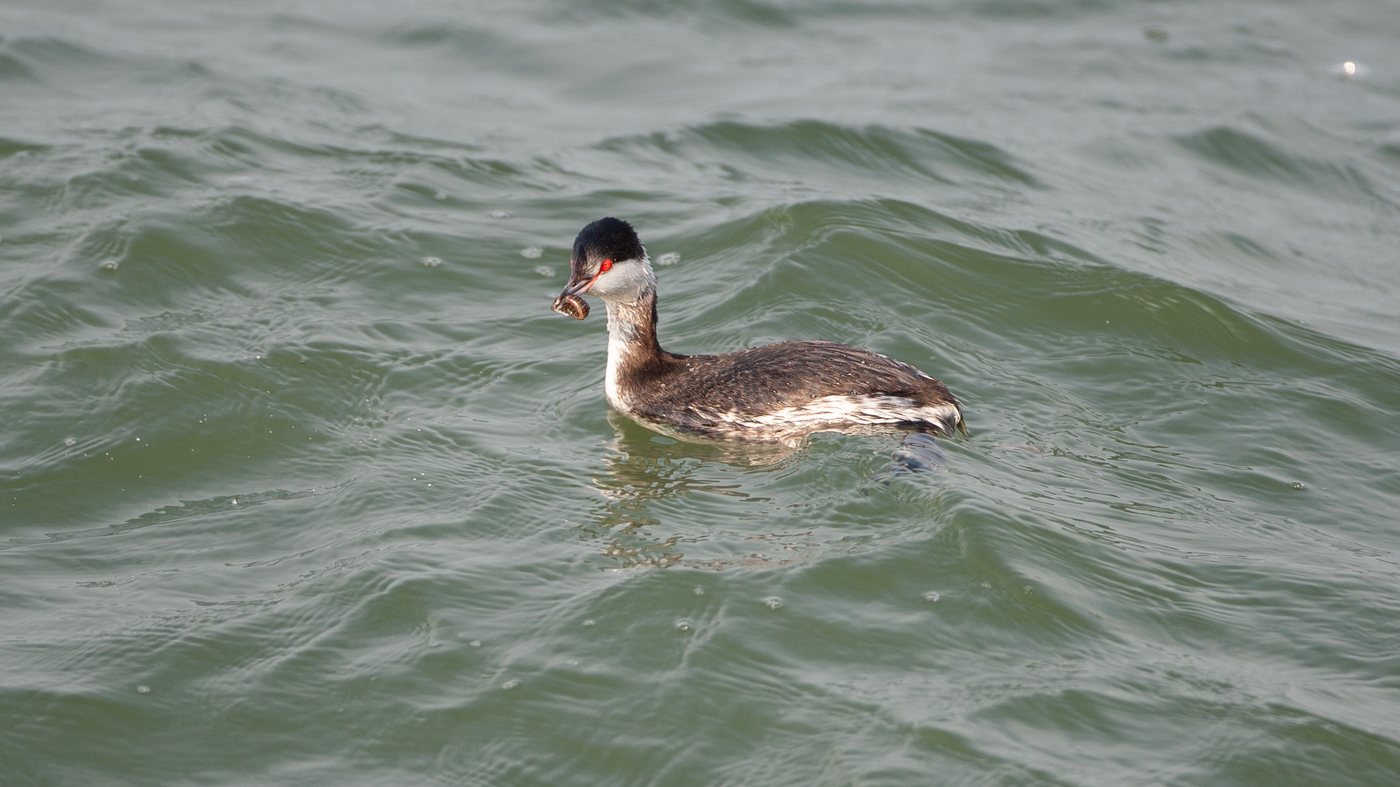 Slavonian Grebe | Podiceps auritus
It is very quiet in Birding Netherlands and the best option was a visit to North Holland where a Red-necked Grebe was reported yesterday. This one sat nearby and so there were photo opportunities.
At 7 o´clock we left with a full car from Uden, Jan Verhoeven, Luuk Wassenberg, Koen Rovers and myself of course. We drove first to the Red-necked Grebe near Schardam. En route we stopped for coffee and around 9 o´clock we arrived on the dike at Schardam. The Red-necked Grebe was found almost immediately and he was indeed not far away. When out of the car we were surprised by a hard icy cold wind. The jackets were recruited and there were a few nice plates taken.
Next stop was the Waterpark de Oude Zeug, here we found great quantities of Goosanders at no more than 20 meters away. The birds were occasionally courting. We parked the car along the quay and there were lots of pictures. Also some Smew and Red-breasted Merganser were among the group. We stayed here certainly more than half hour and for me and we left too quickly. An inspection of the port of Den Oever did not reveal much and we drove to the Mariëndal in Den Helder where a Jack Snipe was reported yesterday. The Jack Snipe was surprisingly found quickly and this is a new species for the year.
We continued to Petten where we wanted to visit the Lesser White-fronted Geese. Alwin now also was awake and we would meet him in the polder at Petten. After driving through the polder we found a large group of Greater White-fronted Geese with in between 4 Lesser White-fronted Geese. After consultation we decided to drive to the pier at IJmuiden. The wind was slightly decreased but was still very cold when we walked to the pier. On the beach was a group of Sanderlings who were nice photographed. This also applies for two Slovenian Grebes who sat at the middle of the pier. But further it was also very quiet and we could not even get the ever-present Purple Sandpipers.
We kept it a day and in the car the daylist was made up which held 63 species. With one new species for the years I am now at 174 species.