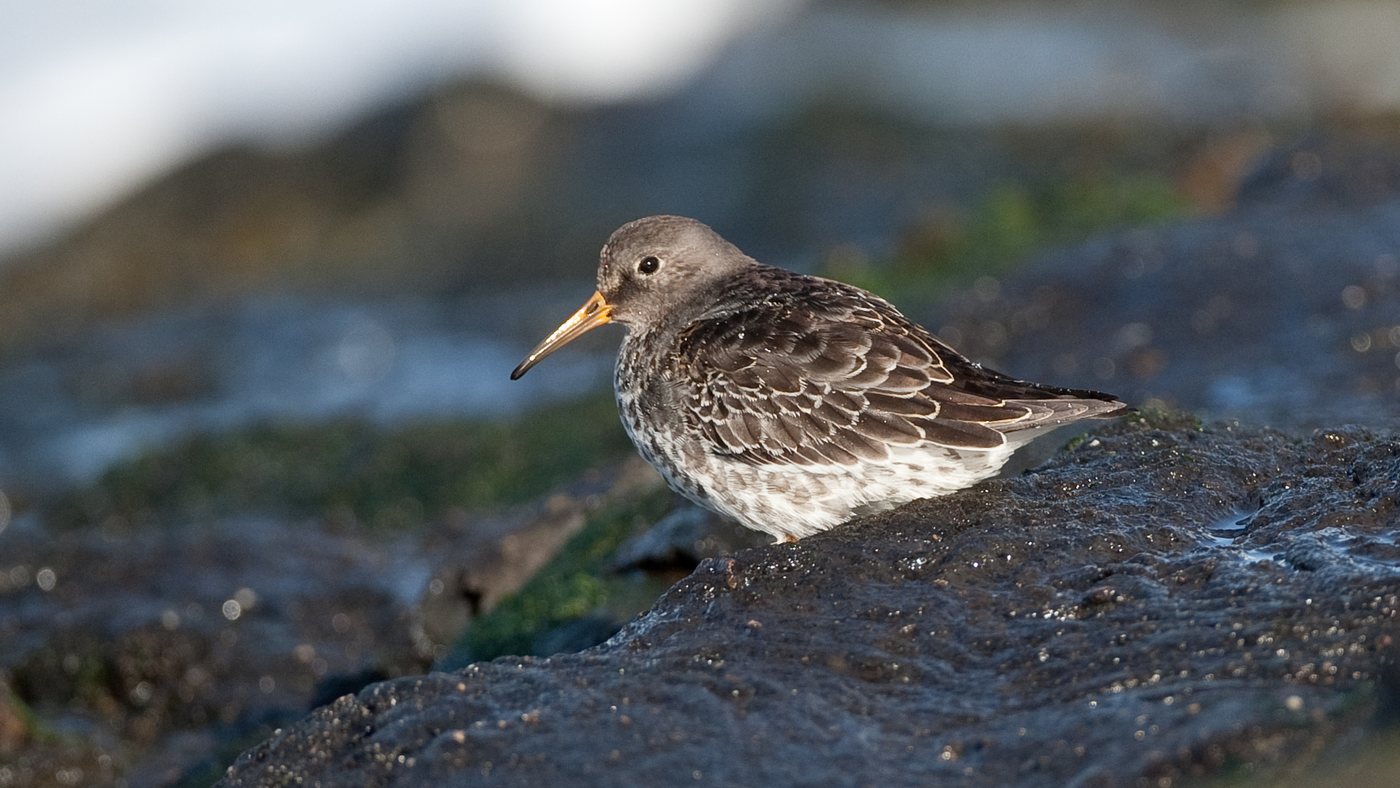 Purple Sandpiper | Calidris maritima
With a prediction of a north-westerly force 7 to 8 seems to be a good day for a day of migration counting at Westkapelle. Early in the morning we leave with 4 people from Uden and 1 from Vorstenbosch. Along the way we will meet Alwin and we see him just after Breda at a gas station where we drink a cup of coffee. With two cars we drive to Westkapelle.
By dawn we drive on the dike where the Migration site is. There are already a dozen counters. The more westerly wind seems to be a bad omen. During the first hour we almost see nothing. The first good species that we see is a Pomarine Skua (303) which also a new year species for me. Not much later there are 2 more Pomarine Skua. A Razorbill (304) does not fly too far from the shore and can therefore be determined, also this is a new species of the year. The following new species is a Kittiwake (305). Besides a Black-throated Diver there is not much more and we decide to leave migration site. Next goal is a Greater Yellowlegs that this week was regularly reported in the Wanteskuup.
For Teun van Kessel, Koen Rovers and Luuk Wassenberg this is a new species. After a short drive we arrive in the area where the bird is most reported. There are several bird-watchers but no one has seen the bird. However, the bird was seen early in the morning. We certainly looked for 2.5 hours with no results. We continued to Neeltje Jans where we quickly find juvenile Shag. The bird is not shy and we took some nice pictures. Apart from a Rock Pipit it is very quiet. Next stop is the Brouwersdam. Here we find a pair of Red-throated Divers and a reasonable number of Slovenian Grebes for the time of year. A Purple Sandpiper is posing nicely for the camera. There are no large numbers of birds. A Common Goldeneye is still needed for the month list and only one is found only with difficulty. Additionally, there are few Common Scoters. At the harbor, we have a Bar-tailed Godwit and a Great Black-backed Gull on the picture.
A Light-bellied Brent Goose is reported by mail and it is located on a 15 minutes drive. We decide to give it a try. At the place we find a large group of Brent Geese. After some searching we find a candidate, although it does not have enough features. Further searching reveals nothing so we drive to the Prunje Polder. On the way we see a group of Bramblings and Finches. In the Prunje Polder a Peregrine Falcon brings a lot of panic among the local birds. Once calm is restored, we find a Black-tailed Godwit in the company of a Ruff. After some driving around and searching, we wanted to try the Greater Yellowlegs once more. We decide to drive straight to the scene of this morning. Again the bird appears untraceable..
It's fast later and it's time for the journey home. With a day list of 94 species and 3 species for the year it has not been a bad day.