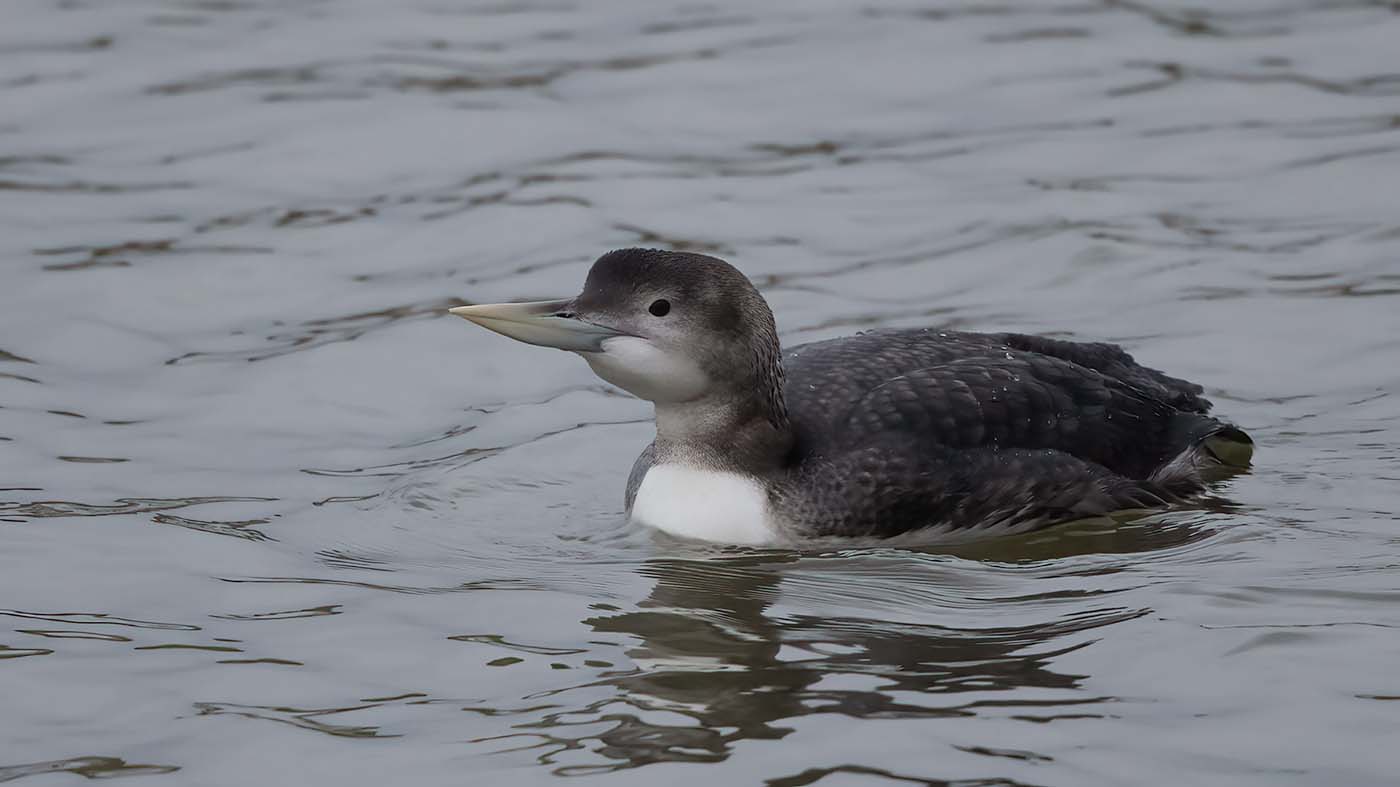 Yellow-billed Loon | Gavia adamsii
Alwin Borhem suggested to do a Big Day this coming weekend. The weather forecast was good so why not.
Alwin and I have often done a Big Day on January 1 in the past. The province of Zeeland was then always the target area. Most species are found here during this period. That seems different this year, but we still chose the province of Zeeland. Alwin made a route that started in the Clinge water supply forests near Hulst in Zeeuws Vlaanderen. The team consisted of Alwin Borhem, Donny Dolman, Maartje Bakker and Toy Janssen (the writer). We agreed at a carpool spot in Made at half past six in the morning.
Maartje and I got into Alwin's car right on time and the drive to Hulst started. The plan was to arrive in the Clinge water supply forests before damn so that there was still a chance of owls. The drive was quick and we parked the car at the edge of the forest, which was still completely shrouded in darkness. There was almost no wind and it was not really cold. Ideal conditions to start the Big Day. It was still very quiet in the forest but that quickly changed with the call of a Tawny Owl from afar. The call also stimulated 2 other Tawny Owls who started to call along nicely. This went on for about 20 minutes until it slowly started to get light. The first kind was in! The forest was now beginning to awaken and the second species heard was a Carrion Crow quickly followed by a Great Tit. Other birds also began to awaken and we noted; Mallard, European Robin, Common Blackbird, Eurasian Wren, European Crested Tit, Eurasian Blue Tit, Short-toed Treecreeper, Common Chaffinch, Eurasian Nuthatch and Eurasian Siskin. We didn't hear any woodpeckers that were on our target species list for this area, but that changed quickly. A Great Spotted Woodpecker began to call and drum. This stimulated a Middle Spotted Woodpecker to call almost overhead. Followed a little later by a Lesser Spotted Woodpecker that let out its call. Other Lesser Spotted Woodpeckers responded to this and we heard and saw at least 5 specimens. That went well, but now we still needed a Black Woodpecker. In the meantime, Coal Tit, Red Crossbill, Common Wood Pigeon and Greylag Goose were added to the list. At last a Black Woodpecker began to call. Our target species list was complete and we decided to walk back to the car. On the way, Goldcrest, Western Jackdaw, Stock Dove, Eurasian Jay, Eurasian Magpie, Common Starling, Brambling, Great Cormorant and Black-headed Gull were added to the list. Satisfied, we drove to a Little Owl, the next target species.
Along the way, Common Gull, Great Egret, Eurasian Coot, Fieldfare, Rook and Greater White-fronted Goose were noted. The Little Owl was found very quickly by Donny and the owl was nicely photographed before we drove on. The Common Merganser was the next target species. This has always proved to be a difficult species in the past and on our route only possible in Zeeuws Vlaanderen. On the way to the wetland near Luntershoek Barnacle Goose, Common Buzzard and Common Snipe were seen. All puddles were searched, but no Common Merganser was found. We did note Tufted Duck, Great Crested Grebe, Little Grebe, Northern Shoveler, Smew, Northern Pintail, Grey Heron and Common Moorhen.
We now drove to the "Verdronken Land van Saefthinge". The Corn Bunting was on our list as a target species. Along the way we saw House Sparrow, Common Shelduck and Eurasian Collared Dove. A little after half past nine we arrived at our destination and we climbed up the dike. Northern Lapwing, Eurasian Oystercatcher, Eurasian Teal, Eurasian Curlew, Eurasian Wigeon, European Herring Gull, Meadow Pipit, Common Redshank, Little Egret, European Rock Pipit, Eurasian Skylark and Hen Harrier were almost immediately noted. Unfortunately no Corn Buntings yet. In the distance, in the middle of the salt marshes, stood a thicket with small birds. The telescopes were set up and we counted at least 6 Corn Buntings. There were probably more but we could certainly get 6 out. Happy with this species, we started the drive to Groede, a drive of more than half an hour. On the way to Groede, a Common Kestrel was added. The target species at Groede was the Western Cattle Egret and we quickly found 3 specimens. Until now everything went very smoothly. The expected Light-bellied Brent Geese were not found near the Breskens migration site. Sanderling and Ruddy Turnstone were noted here. We now drove to cabin "Number one". On the way we received a beep of a Yellow-billed Loon via DBAlerts. The bird was reported in the outer harbour of Stellendam. A lifer for Donny. It was decided to finish our round and to do the Yellow-billed Loon as the last species if it was still there. At hut "Number one" Black-tailed Godwit, Gadwall, Common Greenshank, Great Black-backed Gull, Linnet and Grey Plover were easily scored. The expected Snow Buntings were not found. No Bar-tailed Godwits were also seen.
We now drove to the Braakman. Along the way, 2 Mute Swans were noted. The car was parked around noon and a 1.2 kilometer walk took us to the spot where a Dusky Warbler has been reported for several days. On the way nice species were seen; Eurasian Bullfinch, Common Kingfisher, Northern Goshawk, Water Rail, Lesser Redpoll, Common Chiffchaff and Long-tailed Tit. A Siberian Chiffchaff was unexpectedly spotted among the Long-tailed Tits. The Dusky Warbler was heard and seen immediately upon arrival at the spot. On the way back we saw; Cetti's Warbler, Common Pochard, European Green Woodpecker and Redwing. It was already 12.45 pm and time to leave Zeeuws Vlaanderen with 89 species in the pocket.
Via the Westerschelde tunnel we drove to the port of Vlissingen. The Glaucous Gull was not found here. A Black-crowned Night Heron near the Veerse Meer was the next target species and it was found quite easily by Alwin. Telescopes were set up at the Middel Platen and Red-breasted Merganser, Brant Goose, Spotted Redshank, Common Goldeneye, Common Ringed Plover, Dunlin and European Golden Plover were added to the list. We now drove to the Veerse Dam. Here we searched for a Richard's Pipit for more than 20 minutes without success. Although the bird had already been reported in the morning, we could not find it. We made a note of the Black-necked Grebe before we continued on to the Sophiahaven. A Sandwich Tern was quickly found here. A few kilometres further we found 3 Light-bellied Brent Geese in a group of Brant Geese, species number 100! Next stop was Neeltje Jans where an European Shag (101) was quickly found. There was not much else, so we quickly drove to the polder near Haamstede for a Black Brent. On the way, Donny saw 6 Grey Partridges (102) sitting on the roadside. I hadn't seen it here for a while. Even some pictures could be taken. The Black Brent was not found. It was now 3.45 pm and we decided to drive to Zonnemaire for the Whooper- and Tundra Swan. On the way we could possibly see a Eurasian Spoonbill at the Prunjepolder from the car. At the Prunjepolder we saw at least 10 Eurasian Spoonbills (103). A Ruff (104) was noted at the Pikgat. Around 4 pm we found 5 Whooper Swans (105). The Tundra Swans were not found here. We had another reserve location a few kilometers away. Here we found a group of Tundra Swans (106). We also saw a group of Tundra Bean Geese (107) that were gratefully included on the list. The light was already starting to decrease and because the Yellow-billed Loon was still being reported, we decided to drive to the outer harbour of Stellendam first. At 4.45 pm we drove into the harbour and on the other side we saw the Yellow-billed Loon (108) swimming. We walked to the other side and nice pictures could be taken here. Donny was happy with his lifer. There was still light so we drove quickly to the Brouwersdam. There weren't many birds here, but we still managed to put Common Eider (109), Common Scoter (110) and Purple Sandpiper (111) on the list. Even though it was getting dark, we still wanted to try the Greater Flamingos in the Grevelingenmeer. Around 6 o'clock we arrived at the site and from the dike we saw the Greater Flamingos (112) sitting in the dark.
We missed easy types like; Red-throated Loon, Horned Grebe, Eurasian Sparrowhawk, Pied Avocet (where are they?), Song Thrush, Dunnock, European Greenfinch, European Goldfinch and Common Reed Bunting. Other missed target species were; Black Brent, Common Merganser, Glaucous Gull, European Stonechat and Richard's Pipit. We were therefore very satisfied with a final score of 112 species.
| | | | | | |
| --- | --- | --- | --- | --- | --- |
| 01. Grey Partridge | 22. Common Goldeneye | 43. Common Moorhen | 64. European Herring Gull | 85. Eurasian Blue Tit | 106. Brambling |
| 02. Tundra Bean Goose | 23. Smew | 44. Eurasian Coot | 65. Sandwich Tern | 86. Eurasian Skylark | 107. Eurasian Siskin |
| 03. Greylag Goose | 24. Red-breasted Merganser | 45. Eurasian Oystercatcher | 66. Stock Dove | 87. Cetti's Warbler | 108. Lesser Redpoll |
| 04. Greater White-fronted Goose | 25. Yellow-billed Loon | 46. Northern Lapwing | 67. Common Wood Pigeon | 88. Long-tailed tit | 109. Linnet |
| 05. Brant Goose | 26. Little Grebe | 47. European Golden Plover | 68. European Turtle Dove | 89. Common Chiffchaff | 110. Red Crossbill |
| 06. Light-bellied Brent Goose | 27. Great Crested Grebe | 48. Grey Plover | 69. Tawny Owl | 90. Siberian Chiffchaff | 111. Eurasian Bullfinch |
| 07. Barnacle Goose | 28. Black-necked Grebe | 49. Common Ringed Plover | 70. Little Owl | 91. Dusky Warbler | 112. Corn Bunting |
| 08. Mute Swan | 29. Greater Flamingos | 50. Common Snipe | 71. Common Kingfisher | 92. Common Firecrest | 113. |
| 09. Tundra Swan | 30. Eurasian Spoonbill | 51. Black-tailed Godwit | 72. Lesser Spotted Woodpecker | 93. Goldcrest | 114. |
| 10. Whooper Swan | 31. Black-crowned Night Heron | 52. Eurasian Curlew | 73. Middle Spotted Woodpecker | 94. Eurasian Wren | 115. |
| 11. Common Shelduck | 32. Western Cattle Egret | 53. Spotted Redshank | 74. Greater Spotted Woodpecker | 95. Eurasian Nuthatch | 116. |
| 12. Gadwall | 33. Grey Heron | 54. Common Redshank | 75. Black Woodpecker | 96. Short-toed Treecreeper | 117. |
| 13. Eurasian Wigeon | 34. Great Egret | 55. Common Greenshank | 76. European Green Woodpecker | 97. Common Starling | 118. |
| 14. Mallard | 35. Little Egret | 56. Ruddy Turnstone | 77. Eurasian Jay | 98. Common Blackbird | 119. |
| 15. Northern Shoveler | 36. European Shag | 57. Sanderling | 78. Eurasian Magpie | 99. Fieldfare | 120. |
| 16. Northern Pintail | 37. Great Cormorant | 58. Purple Sandpiper | 79. Western Jackdaw | 100. Redwing | 121. |
| 17. Eurasian Teal | 38. Hen Harrier | 59. Dunlin | 80. Rook | 101. European Robin | 122. |
| 18. Common Pochard | 39. Northern Goshawk | 60. Ruff | 81. Carrion Crow | 102. House Sparrow | 123. |
| 19. Tufted Duck | 40. Common Buzzard | 61. Black-headed Gull | 82. Coal Tit | 103. Meadow Pipit | 124. |
| 20. Common Eider | 41. Common Kestrel | 62. Common Gull | 83. European Crested Tit | 104. European Rock Pipit | 125. |
| 21. Common Scoter | 42. Water Rail | 63. Great Black-backed Gull | 84. Great Tit | 105. Common Chaffinch | 126. |