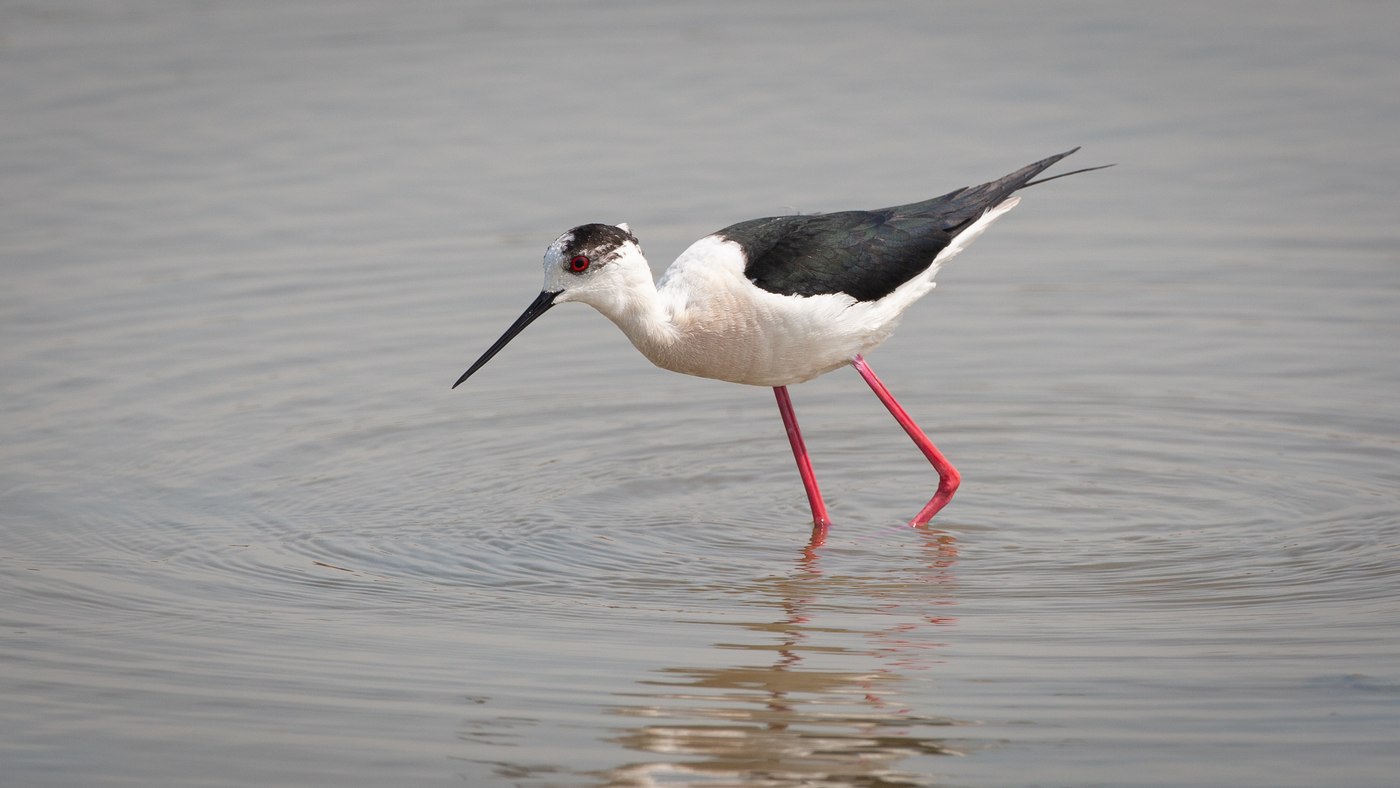 Black-winged Stilt | Himantopus himantopus
There's has been an easterly wind all week and the migration counting's of Breskens look good. It's been a while since I've counted here so it was about time for a visit.
At 3.45 am I pick up Teun van Kessel in Vorstenbosch and together we drive through Antwerp to Breskens. The ride is smooth and in the twilight we are the first at the migration site. A hunting Short-eared Owl is soon observed. The owl caught a mouse and disappears with the prey in the distance. There is a very weak southeast wind and there are not many birds. The temperature is not too high and my fleece jacket is really just not enough. After one hour some Swifts and Barn Swallows starting to come over. Meanwhile, I can update my year list. Because of the journey to Antarctica I have almost no summer species. A Grasshopper Warbler is singing along the dike, I can also write down the Willow Warbler, Lesser Whitethroat, Barn Swallow, Swift, Sand Martin, House Martin, Greater Whitethroat and Nightingale. A group of three Little Terns are seen and these are also new for the year.
A male Ring Ouzel is discovered in one of the trees, later we discoverer 2 more. The migration begins to increase and mainly Swallows are counted. Between the Yellow Wagtails there are 2 British Yellow Wagtails discovered. A Caspian Stern flies at high altitude straight over the migration site and was hardly noticed. A female Golden Oriole is seen and later there are seven more counted. A slim Harrier flies over and it appears to be a female Montagu's Harrier. A Dotterel flies straight over the migration site. We decide to stop at 12 o'clock and to finish we see a Black Kite.
We pay a visit to "De Blikken" and here we discover 8 Black-winged Stilts. One of the birds is at 5 meters from the bird watching hut and is observed and photographed beautifully. This is also the case with a Common Sandpiper and a Little Ringed Plover. We certainly hang around for an hour before we leave for the Sophia Polder. On arrival we immediately see the Snow Geese which is staying here for quite some time. The numbers of Mediterranean Gulls are disappointing and we do not find much new here. Later we discovered that we did not look good enough because there was a Pectoral Sandpiper reported. Next stop was at "number 1" the bird watching hut. Target species is the Kentish Plover but we could find none. A report of a Zitting Cisticola at Terneuzen is our new destination. This is the first report of a Zitting Cisticola this year. Unfortunately we could not find the bird.
It was time to drive to Uden. There was still a joint dinner on the program at Marc's BBQ. With 30 new species for the year, my list has grown to 218 species. The daylist is with 117 species not bad.