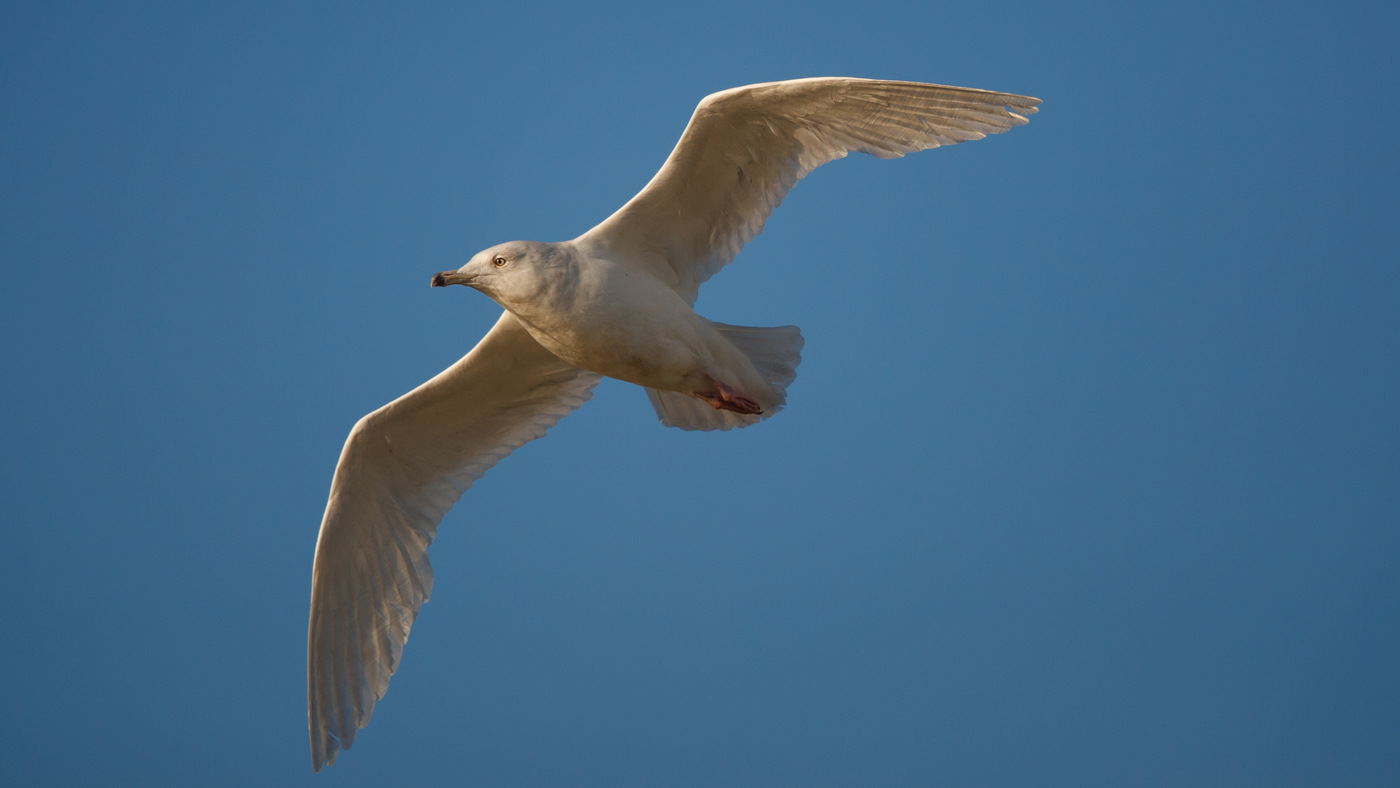 Glaucous Gull | Larus hyperboreus
Finally a weekend without gray skies but with sunshine. A good reason for yet another day to go. A list of target species was made and together with Pieter & Maartje early Sunday morning we drove to the beach at Ter Heijde. Around 8:30 am we parked the car and began to walk towards the beach. There was a strong east wind and it was -4 degrees, the wind felt this more as -10! But with a blue sky and a chilly sun, it looked lovely.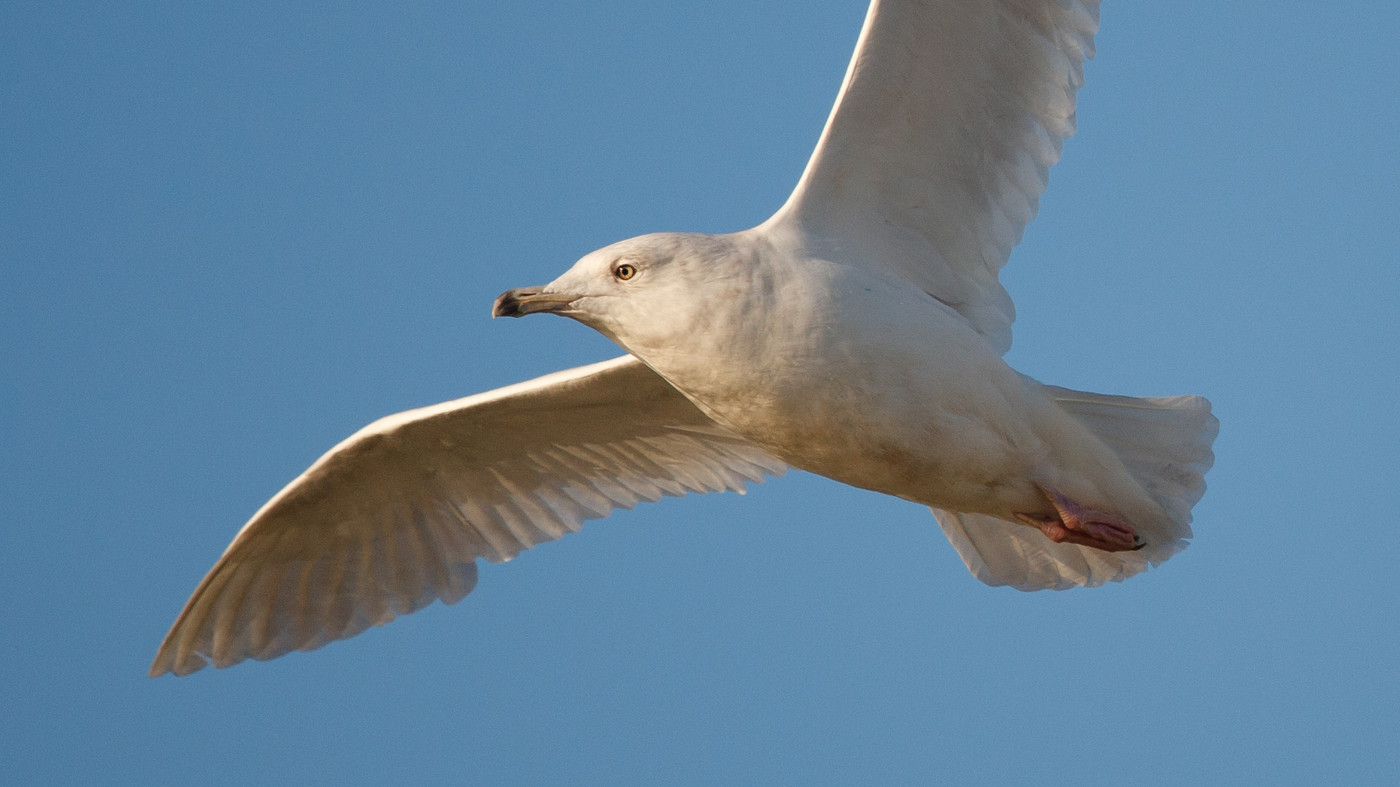 Glaucous Gull | Larus hyperboreus
Once on the beach we were completely at the mercy of the elements. We came here for the previously reported Light-bellied Brent Geese who unfortunately were not present. The telescopes were mounted towards the sea to see if there was something migration. Immediately, large groups and Razorbills and Guillemots were seen, despite the cold air it trembled violently and identification was difficult. An adult Northern Gannet was seen and it still counts for the year list. The groups of Razorbills/Guillemots continued in large numbers, and occasionally we saw a Kittiwake. We stayed here one hour until the cold drove us back to the car.
Next stop was Vlaardingen where for a while now Glaucous Gull is present. Along the way we drank coffee and got back on temperature. The Glaucous Gull was not present on arrival but we brought old bread to improve our opportunities. Heaps of Gulls came down to the bread but no Glaucous Gull. It took at least half an hour before the bird showed up and then immediately disappeared. The pursuit was continued and eventually the bird came back and he was better and longer seen. Also there were a few nice plates made. It was time to move on and that was a second chance for a Light-bellied Brent Goose who dwelled near Ouddorp.
On a meadow near Ouddorp a group of Brent's was discovered and after some searching the Light-bellied Brent was discovered. We drove on to the Brouwersdam where the telescopes were prepared. It was still very cold and we used the car for some shelter from the wind. There were many Common Goldeneye's, Red-breasted Mergansers, Scoters and a single Red-throated Diver. There also should be 4 Long-tailed Ducks but despite a long search we could not found them. We continued our way towards Brouwershaven, here was a Black Brent was sitting. On the reported place we found large groups of Barnacle- and Brent Geese, certainly several thousand copies. After a long search, in the freezing wind, we found the Black Brent in a large group of Brent Geese.
The Whimbrel regularly reported at Neeltje Jans become the next target but first a Common Greenshank and a Green Sandpiper was found in the Prunjepolder. On the way we checked a large group of Tundra Bean Geese what yielded six Pink-footed Geese which still count for the year list. The Whimbrel is usually seen in the bird hide on Neeltje Jans, here we also saw him in December. To get there required a short walk. During the walk, some Rock Pipits were divested. In front of the hut we found a large group of Curlews what made the search not easier, especially because all of them had their beaks into their feathers. A possible candidate was found, and only after she pulled her head out of her feathers we're sure it was the Whimbrel, the first month specie of the year has arrived.
We searched further at Neeltje Jans for the Shag but strangely enough with no result. It was now half past three and time to drive to Zierikzee for an attempt for the Short-eared Owl. Along the way, the Stolpweg was inspected but that yielded nothing. We arrived with the setting sun and quiet we waited. It was now dark but still no Short-eared Owls. Meanwhile, a crying Partridge was heard and 5 Spoonbills had gone to their sleeping place. It was now almost 6 o'clock and time to go home. Unfortunately no Short-eared Owl but we had a beautiful day. On the day list were 83 species of which 10 count for the year list which already stands at 145 species!