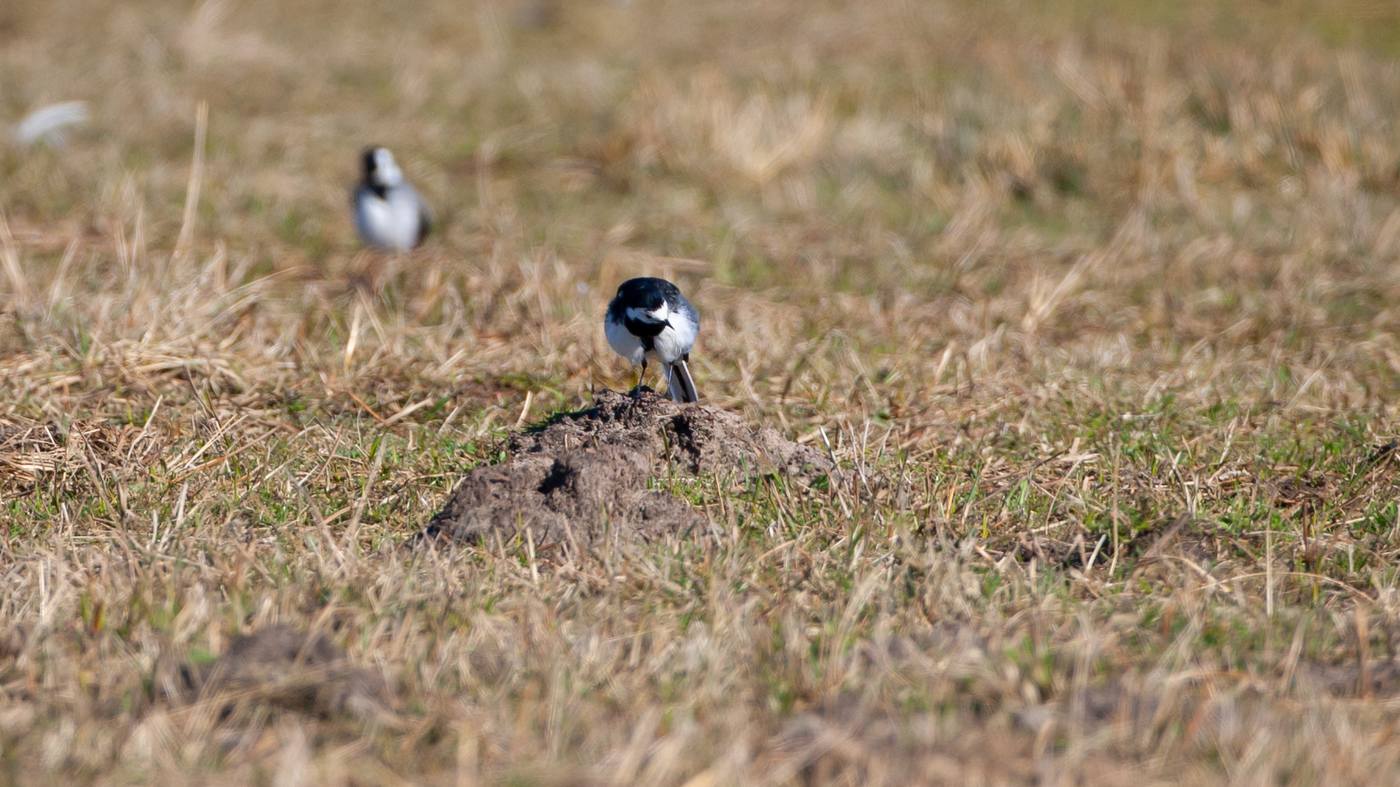 Pied Wagtail | Motacilla alba yarrellii
Saturday morning we started at 7 hours to count migrating birds at the Kamperhoek. Jan Verhoeven, Thijs Fijen, Alwin Borhem, Christian Brinkman and I stood in a thick fog with visibility less than 100 meters. At 10 o'clock we decided to drive across the Trinteldijk toward North-Holland.
After about one hour drive we arrived at the Zuiderdijkweg. Here we drove, while birding, to Waterpark Oude Zeug. There was no fog at this site of the IJsselmeer and instead there was sunshine. At the Oude Zeug we saw a Black Redstart on the ground a little further we found two more. In the harbour there a few Goosanders, Smew and Greater Scaups. There was not much else to see. We drove on to the wielen and they were full of Tufted Duck and in between some Greater Scaups. The Greater Scaups were hard at courting. The Dijksgatweide was inspected beside the normally present Ducks and a few Dunlin we did not see much. A short walk in the Sluitgatbos produced a few Long-tailed Tits but otherwise it was also very quiet.
We drove to Den Oever, in the harbour were a few Red-breasted Mergansers. A walk on the pier gave a couple of Bramblings. A present birder informed us of a group of Pied Wagtails at Mariëndal. In the polder near Stroe we looked for Brent Geese. Because there are no Geese present we continued to Westerland. Upon entering the area, we just saw a large group of Brent Geese flying away. Luuk Punt, who was present, confirmed us that there were 2 Black Brent Geese among them. We exchanged some information and Luuk and his party also head for Mariëndal. Unfortunately, the Pied Wagtails were no longer present, but Luuk found a Jack Snipe that we had indicated. We continued to Callantsoog where Alwin yesterday had a group of Pied Wagtails. The group was luckily there and we counted 6 birds. This is a new kind for the year and the list is thus increased to 184 species.
We continued to Petten in search of the Lesser White-fronted Geese. On arrival there were no Geese in the polder, so we decided to do some sea watching. There was mild migration of seabirds and the most prominent groups were Dunlin that regularly passed. Furthermore, some Common Scoters were seen and one lonely Gannet. The sea session came to an end when the Geese returned to the polder. From afar we saw large groups of White-fronted Geese. The Geese stroke down quickly but still we could not found the Lesser White-fronted Geese.
It was now nearly four o'clock and for us it was time to drive back to Uden. In the car the day list was made up. We had 84 species today with one new for the year.