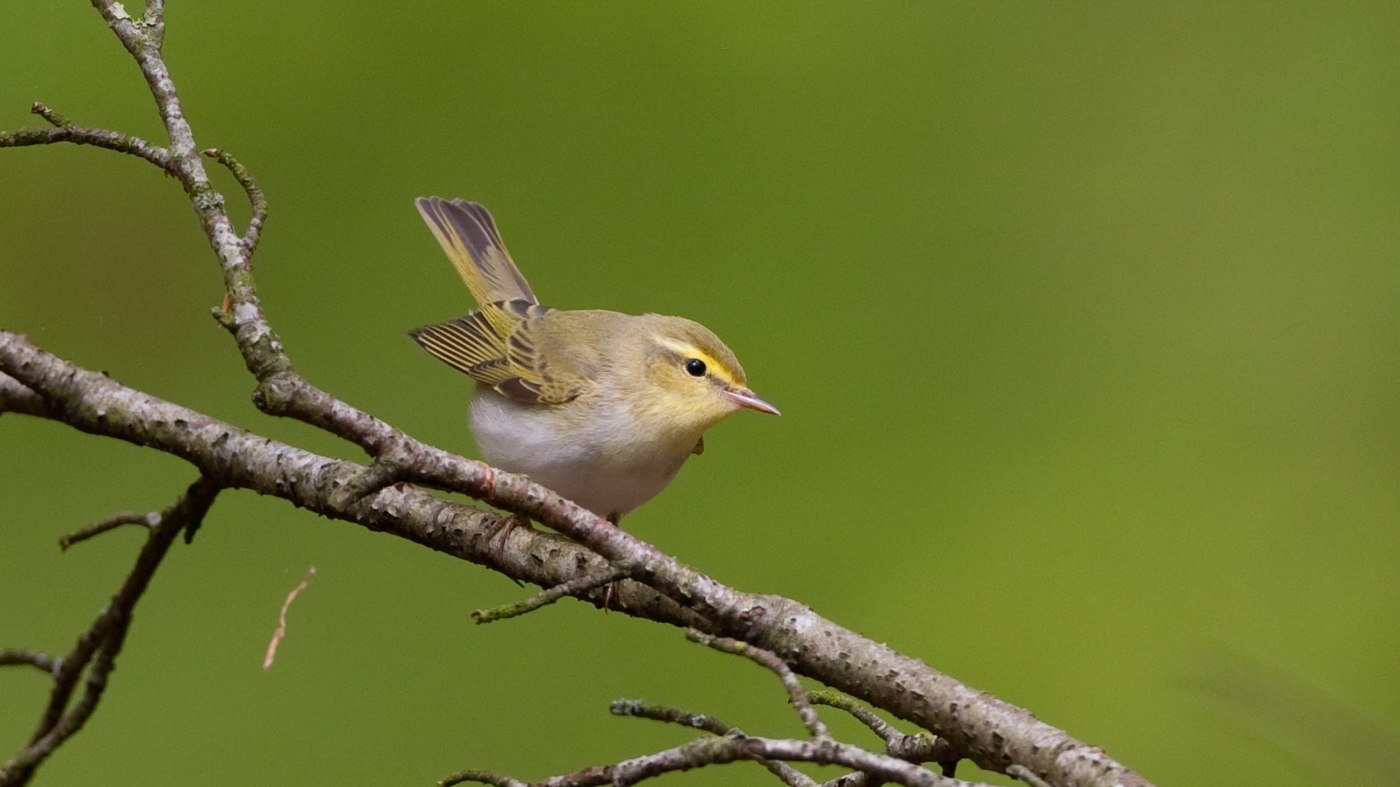 Wood Warbler | Phylloscopus sibilatrix
Although there is a Long-tailed Cormorant sitting in the Ooijpolder we decided a day to the north of Holland. A bit of a rehearsal of the Top Birding Holland Day. Alwin and I would meet at 5.30 at a gas station just behind Zwolle.
Just before 5.30 I arrived at the pump just behind Zwolle. Also here we recorded the first bird of the day, a Rook. At the service station there is a colony so this species is not hard. Alwin came right on time and together we drove with one car toward Diependal. In the channel, along the N371, we saw a red deer swimming. It was not possible for the animal to get back on the shore. We turned and looked whether we could do something for the animal. This proved impossible and we drove on with a mixed feeling. Around 6.00 am we arrived at Diependal. The temperature was not very high but the birds were singing in full. After a short walk we arrived in the hut where allready four bird watchers had taken up residence. The Red Neck Grebes were quickly found and a Garganey swam in front of the hut. Unfortunately, no calling Bitternand we decided to go.
Next stop was the Ackingerzand. A Black Woodpecker was heard and a Redstart was heard singing. We walked to the lake where we had a close view of the Black-necked Grebes. One Tree Lark was heard singing in the distance. We actually had a Green Woodpecker expected but we could not find the bird. After a short lunch we drove to Fochteloërveen. Close to the bird watching a quail called, a new year species for both. A walk in the area yielded several Winchats and a Black-necked Grebe. No Hobby's, this was probably due to low temperatures so there were no insects active. We visited the tower but no Cranes were discovered. We drove back to the Fochteloërveenweg and found one Hobby in a tree.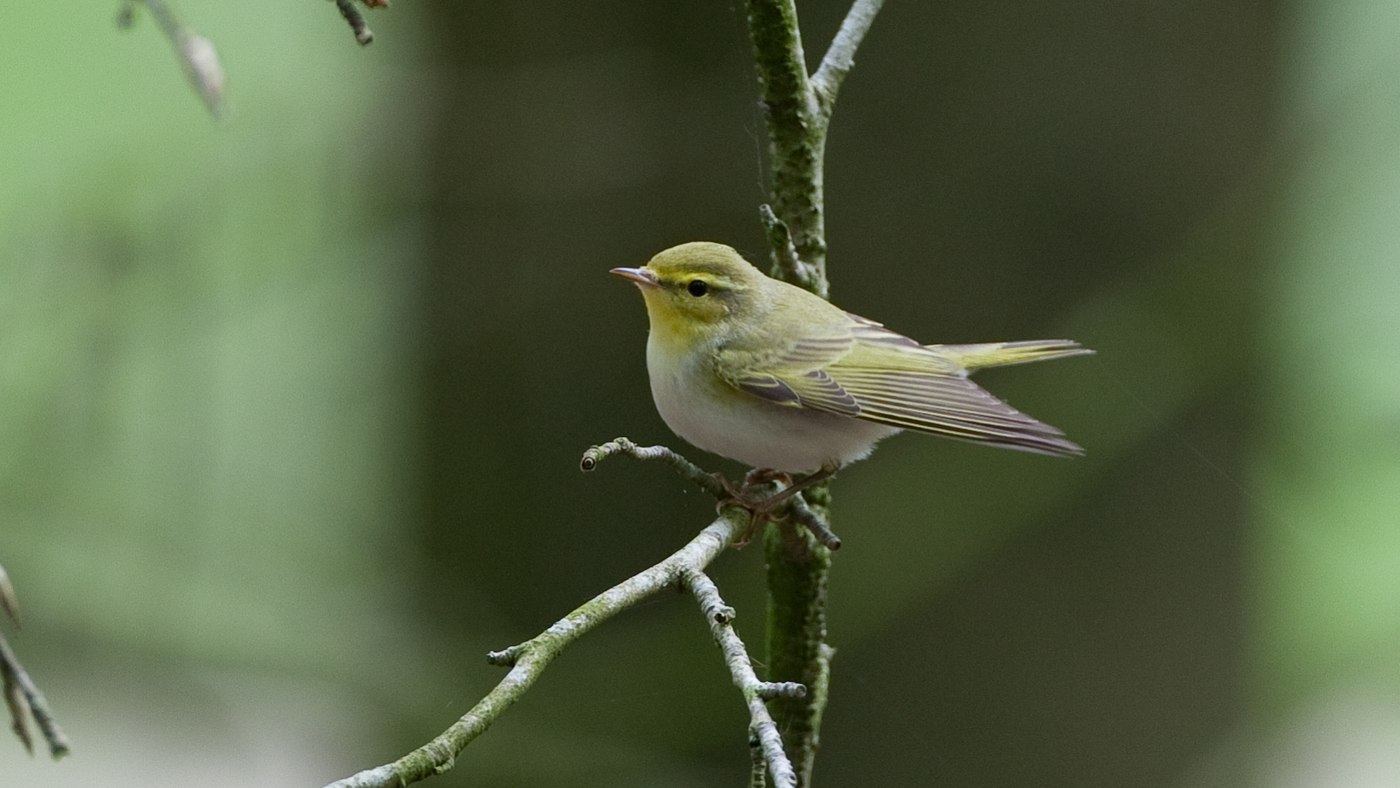 Wood Warbler | Phylloscopus sibilatrix
Wood Warbler | Phylloscopus sibilatrix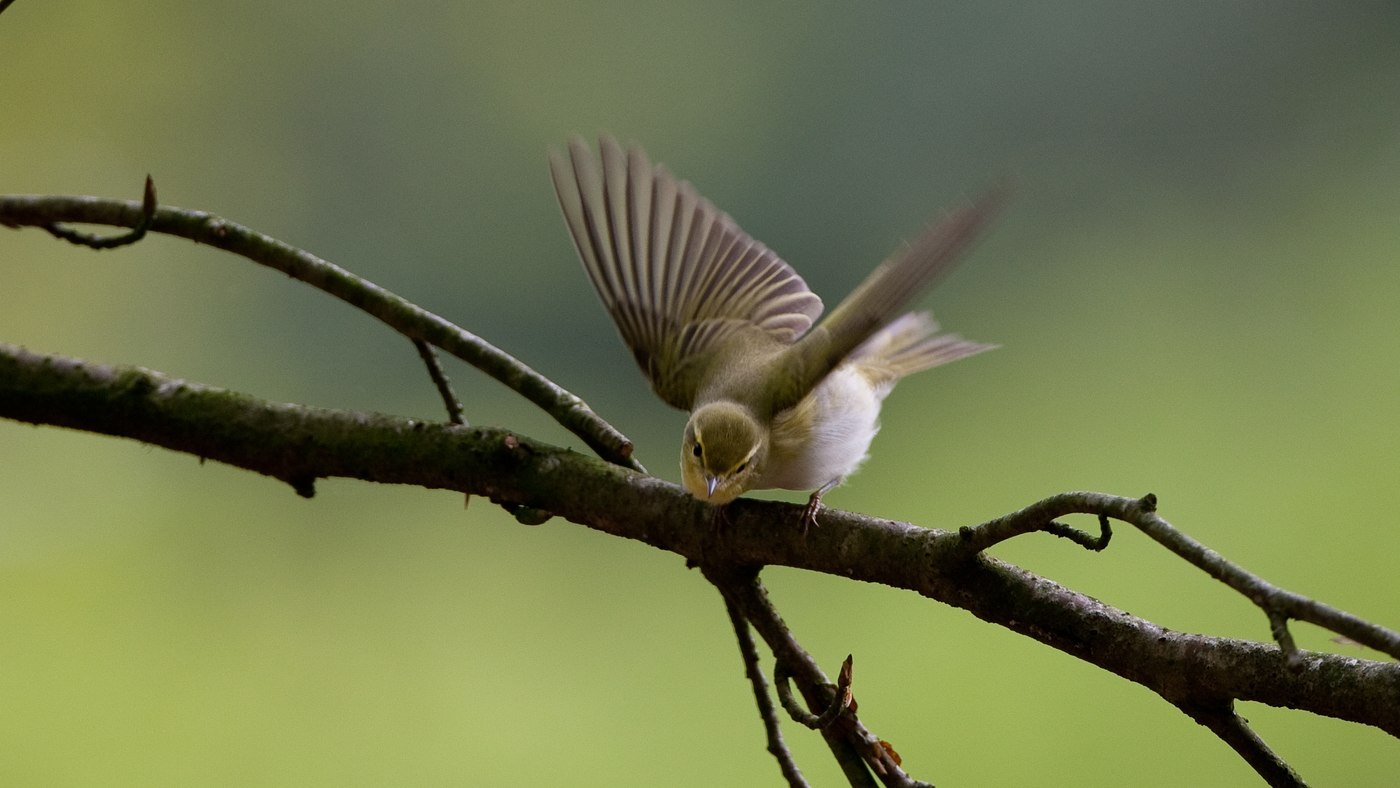 Wood Warbler | Phylloscopus sibilatrix
We drove on to the Blue Forest where we found a Wood Warbler last week. The bird was sitting not too high and seemed fine for a photo. We did not have time for this then so today is a new attempt. Upon arrival in the forest we heard the bird almost immediately. The Wood Warbler was not shy and we had great shots. We stayed here for about one hour and we heard a second Wood Warbler. We were now heading for the Lauwersmeer where we would make a walk in the Zomerhuisbos. The temperature had risen slightly and I could take off my coat. The birds were singing in full and a female Golden Oriole was calling. We heard several Spotted Flycatchers and some could be seen. A slim Harrier caused some tension until it appeared that it was a male Marsh Harrier. Next stop was "Vogelroute De Pomp" where we took a long walk. Here we heard a Grasshopper Warbler and that was about it.
A visit to the Jaap Deensgat yielded a greater number of species but there were very few wading birds. A Little Stint and a few Spotted Redshanks that was all. We stopped at a the Vlinderbalg in search of a Goldeneye but without success. A little further we saw Rina and Kees enjoying the sun. We stopped for a chat and they pointed us a singing Nightingale not far away. We found the Nightingale quickly and drove on the coastal road. A glance over the mudflats produced hundreds Grey Plovers and almost all were dressed in beautiful summer plumage. Furthermore, a number of Bar-tailed Godwits, Dunlin, 4 Eiders and Knots. We drove to the marina for the Black Redstart. After a short search we found the male and we made beautiful pictures. In the Bant Polder we looked for the Red-breasted Goose, but it was not found. Kees and Rina gave us a tip for an Arctic Tern. There is a small colony in the outer dike area near Peasens. In addition there was also a chance for a Black Brant and Pale-bellied Brent Goose. We parked the car under the dike at Paessens and took off our coats. It would be a long walk to the Arctic Tern at the end of a pier sat. The Black Brant and Pale-bellied Brent Goose were quickly found and we had a few pictures. After a half hour walk we arrived at the colony and saw eight Arctic Terns, for both a new year species. The walk back to the car was against the wind and left me with a wet shirt. We were now heading to the Keeg for the Green-winged Teal (third attempts of the year). Again we had no luck, the duck was nowhere to be found. Well did we see on arrival the Ross's Goose. As in the Jaap Deensgat there were few wading birds. A Wood Sandpiper was heard but not seen. Gadwalls are starting to show traces of moult. A Goshawk was hunting but with no success.
It is now 18:00 and time to go home. In the car, the list was put together. We were able to record 130 species today, not bad.