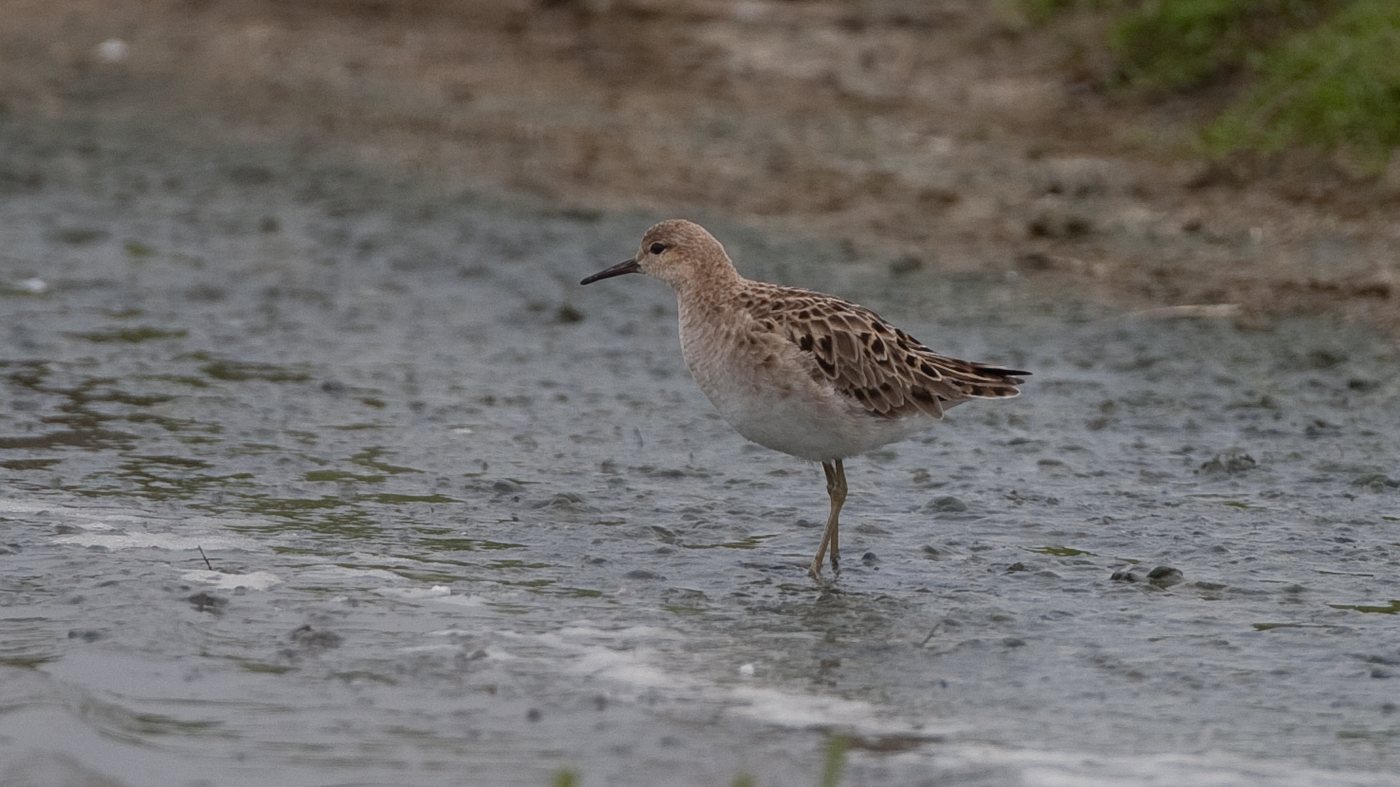 Ruff | Calidris pugnax
Sunday, May 9 a day trip to the Provence of Zeeland country. Getting up early at 4.30 and still not fully recovered from yesterday, the Top Holland day. At five o'clock I stood by Thijs and soon we were on the A50 towards Eindhoven. We would meet at an Esso pump to meet Alwin just past Breda. From here we drove further with one car. The ride went through Antwerp to Zeeuws Flanders where we would start in the Polder Sophia.
A Cetti's Warbler was singing loudly on arrival and this was a new year for all. Yesterday was one possible White-rumped Sandpiper reported, and soon we found a wading bird what looked interesting. It did not quite match a White-rumped and this possibility was therefore quickly ruled out. After consulting the book we decided that this must be a strange looking Dunlin. The Snow Goose still present was quickly found and for me and Thijs it was a new year species. Unlike previous years we only saw 4 Mediterranean Gulls. It seems that the birds have found another location. Furthermore, a Sanderling, Knots and some Black-necked Grebe were seen. The trip continued towards "De Blikken". From the bird watching hut a Ruff was discovered in a color much the same as a Buff-breasted Sandpiper. The bird was at a short distance so a couple of photo's were taken. 2 Temminck Sandpipers and 2 Little Stints were on the island in front of the bird watching hut. The Whiskered Tern reported yesterday, we could not found. Next stop was the Black Polder near Cadzant. A Glaucous Gull was reported here three days ago. Accept for a Stonechat nothing was found.
We drove on to a cabin "Number one", a bird watching hut. We saw a Merlin who molested a Sparrowhawk on the way. From cabin Number one 2 Kentish Plovers were discovered and we saw some Little Terns. The Little Tern was a new year for all three of us. The Braakman was the next visit for a Zitting Cisticola. At arrival Alwin soon heard a courting Ziting Cisticola. His ears are clearly better then that of Thijs and I because we took some time before we heard it and then saw it. The bird is a new year species for all three of us. It was time to leave Zeeland Flanders towards Walcheren. The Westerschelde tunnel brought us to Walcheren where we spent the rest of the day. First went the direction of the migration counting post of Westkapelle. Behind this is a nature development area "t'Voorn". We expected Yellow Wagtails (Motacilla Flavissima uncommon sub specie in Holland) and they were quickly found between the normal Yellow and some Grey-headed Wagtails. The weather was a little nicer when the sun broke through. It is a beautiful area to be and we stayed here a couple of hours. A large group of Sandwich Terns stayed at a one of the sandbars. They were very nervous and at the slightest provocation they all flew out loud. Moments later the reason was known, a subadult Peregrine caught a Bar-tailed Godwit right before our eyes. The action sparked panic among all the birds present. After the calm had returned, we discovered a Curlew Sandpiper, also this was a new year species for all three of us.
Next stop was the Zandvoortweg near Middelburg. A Marsh Sandpiper was reported here yesterday. After a short ride we arrived at this nature area development. There was not much water in the pools and the Marsh Sandpiper was nowhere to be found. We only saw a couple of Wood Sandpiper and several Whimbrel. It was time to go home and in the car the balance was made up. 112 species for the day and 6 new year species for me.