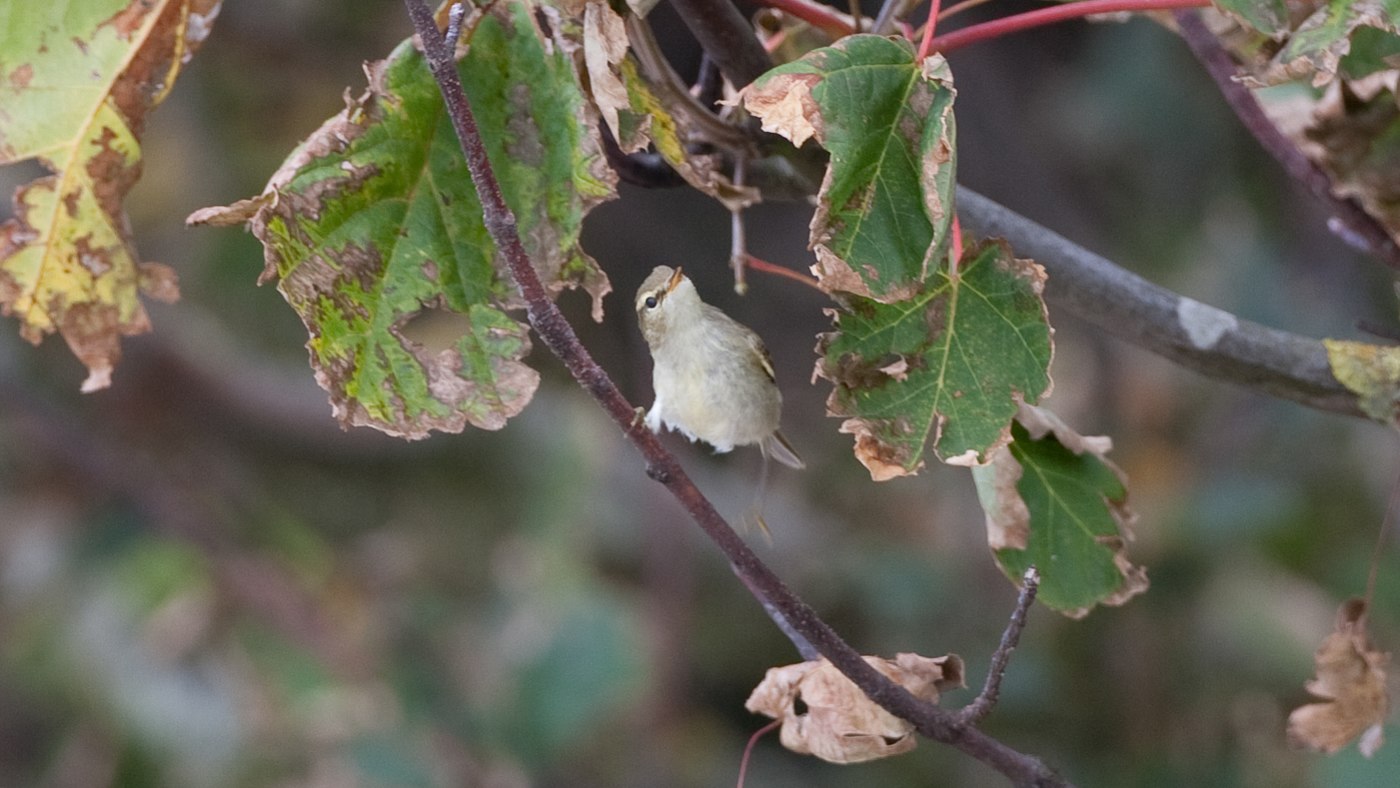 Greenish Warbler | Phylloscopus trochiloides
On the third of September a Greenish Warblerwas discovered on the Texel. This bird is still missing on my list, so if the bird the next day would be reported than Texel was the destination. Saturday morning early at the migration site the Greenish Warblerwas reported still present and occasionally seen.
Almost immediately the decision was taken to drive to Texel. Jan Verhoeven also did not have the bird so he joined me. After a ride of two hours we arrived at the ferry where we could embark straight away. This was good timing! The crossing was fast and once on the island we drove to "De Tuintjes" where the bird was. The car was parked and we walked to the place with two other birders. Almost immediately upon arrival we saw a Phyllo what was a very good candidate. The bird had a clear line on the wing and the eye stripe was good to see. It went very quickly and it was certainly not enough to note the bird.
We decided to wait here until the bird would show again. After half an hour came the song of the Greenish Warbler from the bush. The bird sang two times the entire tune and this was sufficient evidence for the bird to be recorded. Other bird-watchers believed the bird in sight at the other side of the bush and we went thither. I saw only ordinary Willow Warblers and Chiffchaffs. Between the hubbubs of the birders I heard the whistle again of the Greenish Warbler at the old place and I walked back. Here I saw a Phyllo that I quickly put on the picture. At home, when I could see the pictures better, it appeared that this was the Greenish Warbler.
There were also some Barred Warblers in De Tuintjes and we walked to one of the places where one was seen. We saw a Barred Warbler high in a bush from a distance. The bird disappeared quickly. It seemed a great photo opportunity and I was standing close to the grove in hopes that the bird came out again. During the post Mervyn Roos called me who was counting birds at the Kamperhoek. Of course at this time, the Barred Warbleragain completely came out of the shelter and I was too late for a photo. We waited but the bird did not come again from the bush.
A little walk on another Barred Warbler was seen so we were trying this bird. Luuk Punt joined us, for him the bird was still a new species. After 10 minutes we saw a group of birders who had Barred Warbler in sight. We added us to them and Luuk could add a new species to his list. The Barred Warblershowed itself nice but it was too far for a photo.
It was now 16.00 o'clock and time to go home. The Greenish Warbler is my twelfth new species of this year.