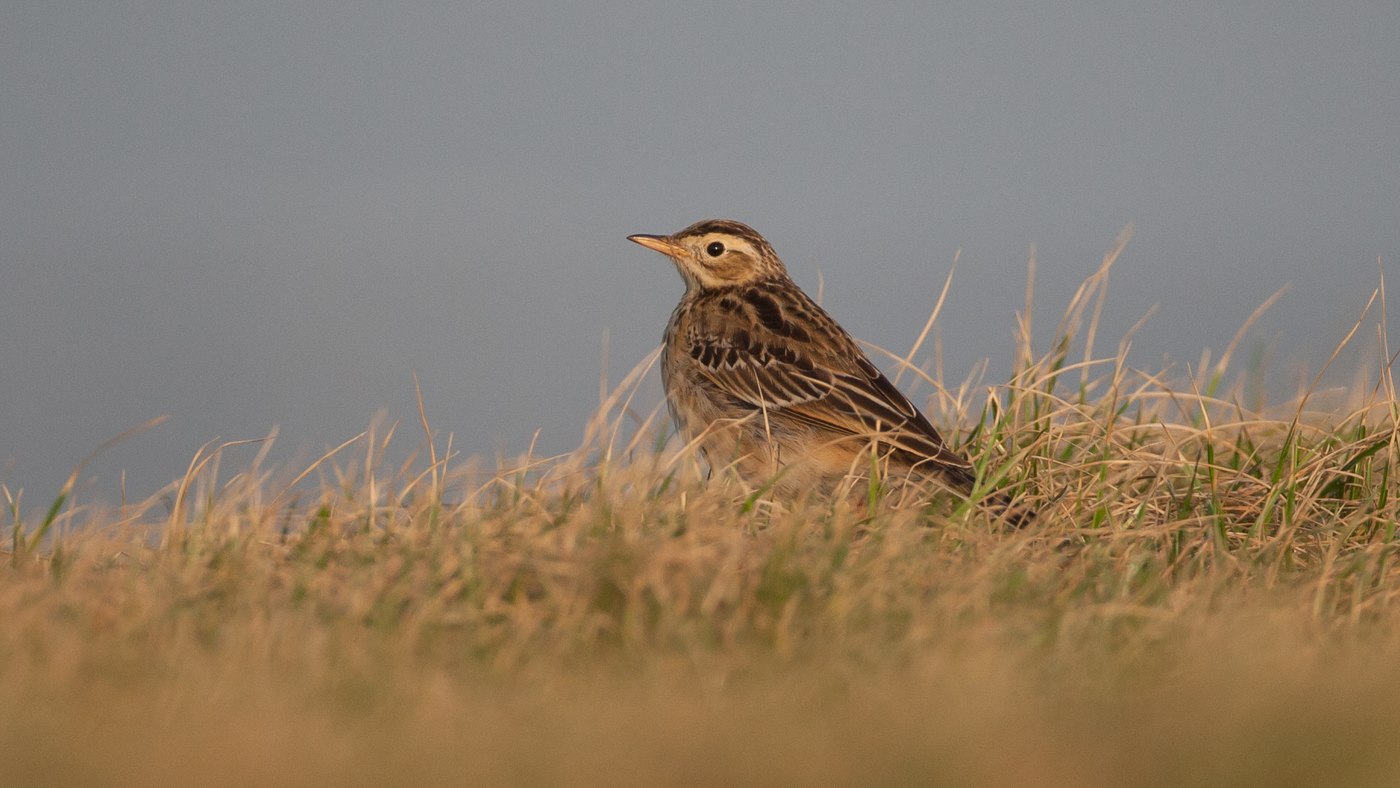 Richard's Pipit | Anthus richardi
Almost a month a Richard's Pipit is reported at the Hondsbossche Zeewering. It seemed possible to photograph the bird and we could combine it with a round of the province North-Holland. With a well-filled car, Luuk Wassenberg, Teun van Kessel and Koen Rovers, we left early from Uden.
Alwin came along and we would pick him up at Abcoude where we went further with one car. After the usual coffee stop, we came right on time at the Hondsbossche Zeewering. We walked up the dike and almost immediately spotted the Richard's Pipit in company of five Snow Buntings. It took some effort but finally I managed to take some nice pictures. The Snow Buntings had other plans.
The Putten near Petten were inspected but there was not much. We drove into the fields in search of the Lesser White-fronted Geese. These were not detected but were a few nice pictures taken of a Dunnock and a Chaffinch. By Sint Maartensvlotburg a large group of Common Redpolls was discovered. The birds sat along the road in a wooded bank and they let themselves beautifully viewed and photographed. A Wood Lark was noted due to its call. The bird landed and Alwin went to see if there were more birds. No other Wood Larks were discovered. The Port of Den Oever was visited but here it was very quiet. Near Den Oever a Light-bellied Brent Goose was seen but we could not found it.
We drove to the Noorderdijkweg but first we took a look at the locks. Here was a Goosander found. In a walk through the Sluitgatwoods a group of Firecrests was found. The birds were tame and were easily photographed. We continued looking for a reported Rough-legged Buzzard. At the Dijk Lakes a Hen Harrier was hunting and on the water were some Greater Scaups. A Water Rail showed his strident call and a Lapland Longspur flew over. Unfortunately, the Rough-legged Buzzard was not found. Next stop was Waterpark Oude Zeug. At the entrance we found a late Black Redstart. The port itself was full of boats but there were no ducks in sight.
We had another attempt to find the Rough-legged Buzzard but again without success. Unnoticed it became late and time to drive to Uden. In the car the day list was made up, 82 species were listed.