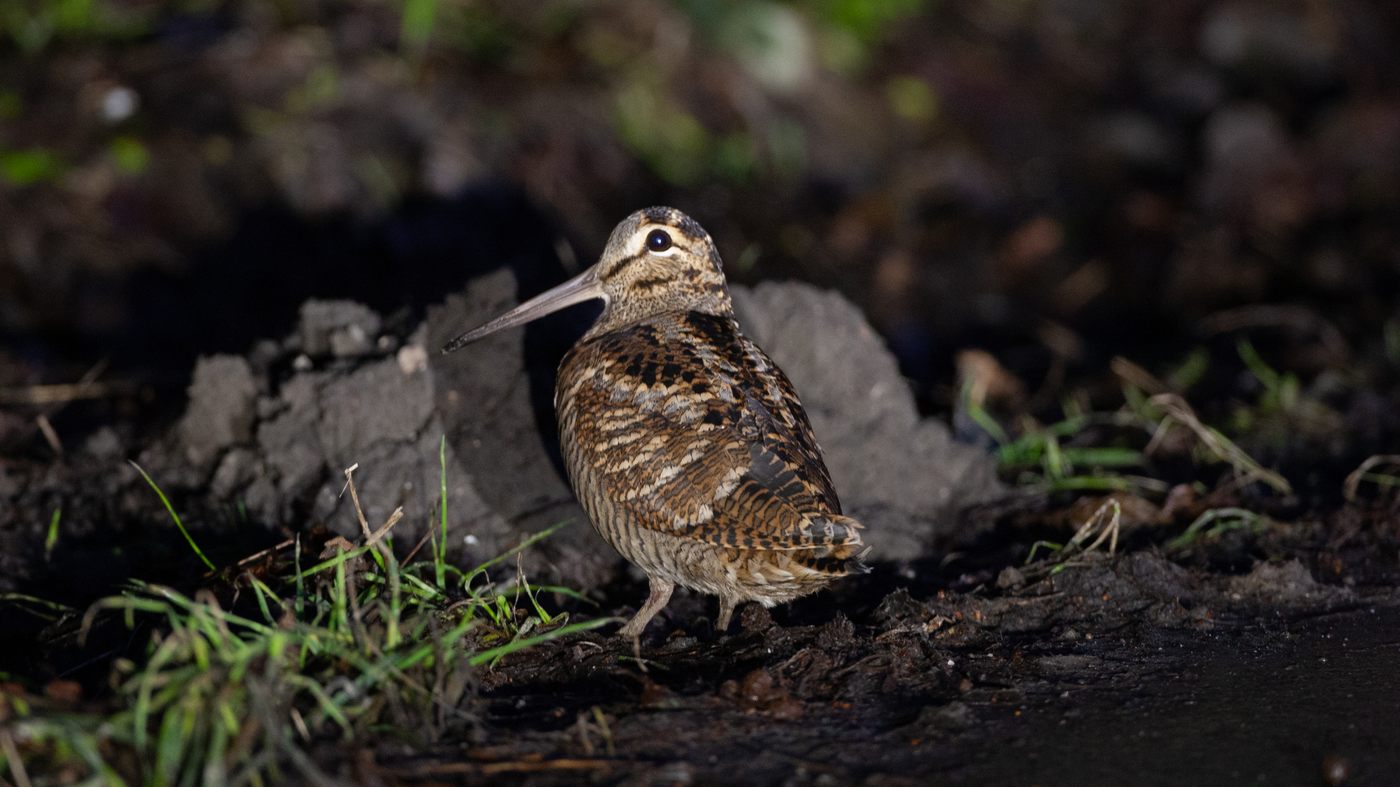 Eurasian Woodcock | Scolopax rusticola
Saturday, January 1st for the third time we held a Big Day. Once again, the destination was the province of Zeeland. 92 species were scored in 2009 and last year we had 103 species on the list. After a short night sleep of less than 4 hours I left at 6.30 pm.
The first who was picked up was Rovers Koen and next Jan Verhoeven. Alwin we would find in the town called Made where we went further in one car. Everything went according to schedule and after a much needed cup of coffee we drove into the province of Zeeland. It was still too dark to see birds. The aim was get as quickly as possible to the place where the Greater Yellowlegs is present for a while now. We left A58 onto the N255 where at 8.22 pm the first bird of the New Year was listed: a Black Crow.
A Wood Pigeon followed quickly and upon arrival at the S'Gravenhoekinlaag we saw a Long-eared Owl hunting. This was a welcome kind. At Glasjesnol we saw in the twilight a Shelduck, Curlew, White-fronted Goose, Wigeon, Grey Plover and a Redshank. It was now light enough and we went to inspect the ditches for the Greater Yellowlegs. A Pochard was seen and the first wading bird we saw was the Greater Yellowlegs. It was very fast but we had no problem with that. We could also list a Spotted Redshank, Great Cormorant, Moorhen and a Tufted Duck. Inspecting the Oosterschelde delivered Goldeneye, Red-breasted Merganser, Great Black-backed Gull, Common Gull, Coot, Herring Gull and Mallard. Our next goal was the polder close to the village of Wolphaartsdijk, here Pink-footed Geese were reported.
Along the way we saw: Mute Swan, Jackdaw, Bewick's Swan, Greylag Goose, Barnacle Goose, Buzzard, Magpie, Dark-bellied Brent Goose, Little Grebe and Oystercatcher. In the polder no Pink-footed Geese were found, instead we saw a Great Tit and a Starling. We therefore now proceed to pavilion The Coot. In the village Wolphaartsdijk we recorded the following species: Blackbird, Great Spotted Woodpecker, Redwing, Collared Dove, Black-headed Gull, House Sparrow, Grey Heron and Dunnock. At pavilion The Coot a nice overview of the Veerse Lake can be made, we added to the list Great Crested Grebe, Ruddy Turnstone, Greenfinch and a passing Chaffinch. A tour at the car park yielded a Jay and a Green Woodpecker. Next stop was the Middelplaten, here we saw a large group of Brent Geese on the shore and almost immediately we saw a Black Brant and 6 Pale-bellied Brent Geese. In particular, the Black Brant we did not expect today because for some time there were no reports in the province of Zeeland of Black Brants. The Middelplaten were good for a number of wading birds and ducks: Common Ringed Plover, Red Knot, Dunlin, Bar-tailed Godwit, Pied Avocet, Northern Pintail, Northern Shoveler and Gadwall. One flying Great Egret was recorded and this goes for a singing Blue Tit.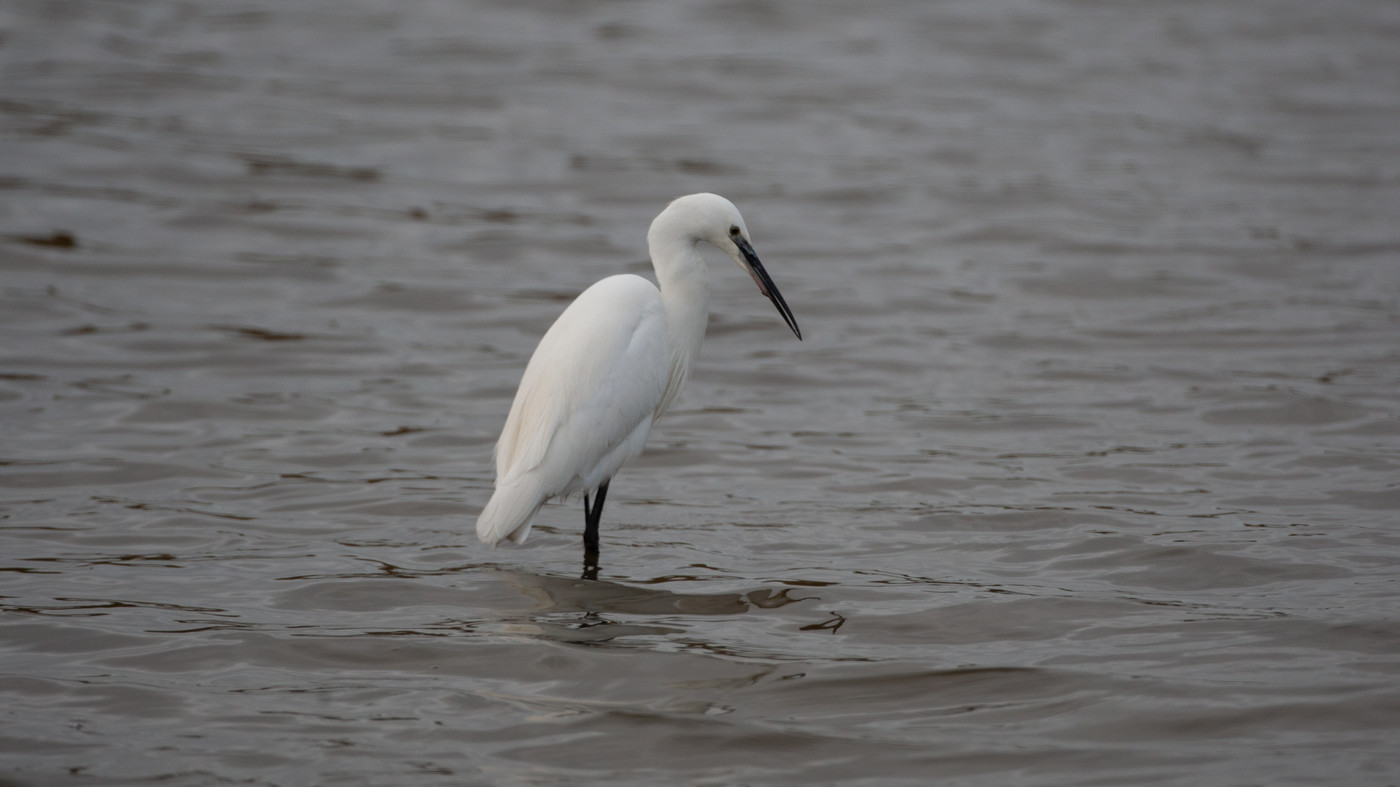 Little Egret | Egretta garzetta
Next stop was the Pietkreek, this is a bit further away and here is a forest which usually yields a number of species. We hoped here for a Woodcock and after some search we saw 3 birds. We could also list the following species: Wren, Long-tailed Tit, Goldcrest, Short-toed Treecreeper, Fieldfare, Song Thrush and Little Egret. The list had grown to 69 species and it was only half past ten. The next stop was the canal at East Souburg, here for some time a Mediterranean Gull is present. Along the way we picked up a Kestrel (70) and at 11.02 the Mediterranean Gull (71) was added to the list. In Middelburg, in recent days a Bohemian Waxwing was reported so that was the next destination. After some search in Middelburg we parked the car and went further on foot. Nowhere was a trace of a Waxwing. We saw some berries bushes but here was nothing. Actually we had given up was it not that Jan Verhoeven found the Bohemian Waxwing (72) in a tree above the berry bushes. This was really an unexpected windfall.
We drove on to the next destination, the migration site at Westkapelle. En route, a Stock Dove (73) was recorded. In the Westkapelsche Kreek an expected Whooper Swan (74) was found quickly. There was also a Reed Bunting (75) and a Hen Harrier (76) seen. At the migration site of Westkapelle we quickly found two Snow Buntings (77) that we expected. A Yellow-legged Gull was not found but it was compromised by an adult Lesser Black-backed Gull (78). It had started to rain a lot and we were now in t'Vroon nature area. A previously reported Ruddy Shelduck was not found. It was quiet here and we only saw 2 new species: a Sanderling (79) and some Lapwing (80). According to previous research at the Geschieresweg in a ditch a Common Greenshank was present, which was the next destination. The bird was unfortunately not but we found 4 Snow Buntings instead. We already had this species but it's always a good bird to see. A did manage to list a Common Snipe (81). We drove further and end up in a different place at the same ditch and discovered the Common Greenshank (82). It went well and the only species we have so far missed were the Ruddy Shelduck, Pink-footed Goose and Yellow-legged Gull.
Next stop was the Veerse Dam, here a Great Northern Diver was reported. At 13.00 hours we drove into the parking lot and almost immediately we saw the Great Northern Diver (83). We also saw some Black-necked Grebes (84). We drove on to Kamperland where Robin (85), Goldfinch (86), Brambling (87), Siskin (88) and Peregrine Falcon (89) were seen. On a field, a Group of Tundra Bean Geese (90) was discovered. Between the Geese, we also discovered three Pink-footed Geese (91). At the Goudplaat were a lot of birds but unfortunately not a new specie so we hurried away to Neeltje Jans. The Mussel farms have been inspected for Divers or Guillemots but there was not much. In the inner harbour, we discovered a Shag (92) and at a buoy 3 more Shags were seen. The Outer Harbour another Shag was found. This was the only species that Neeltje Jans produced but I had never before seen 5 Shags here. We head for the Stolpweg. Here we listed at 14.41 hours a Skylark (93). The time flew so we drove quickly to the Brouwersdam. It was very disappointing, but with some difficulty we managed to list a number of target species: Eider (94), Red-throated Diver (95) (only 2?), Black Scoter (96), Horned Grebe (97), Purple Sandpiper (98), Long-tailed Duck and Velvet Scoter (100th class). A Smew (99) in the northern port was the only surprise. The light began to cut back and we drove to the Prunje Polder. Here we recorded three species: Greater Canada Goose (101), Common Teal (102) and Spoonbill (103). At the Grevelingendam there were Twite recorded we still had enough light so we left quickly. 6 Twite (104) were found very quickly and we had still enough light for an attempt for the Greater Flamingo's at the Grevelingemeer. The Greater Flamingo's (105) were also very quickly found and thus we could end the day.
A total of 105 species we were able to score a new record for us and a good start for the New Year. On the way back we saw in the headlights of the car on the site of the road a Woodcock. We stopped and to our surprise the bird was just sitting there and there were a few nice pictures made.