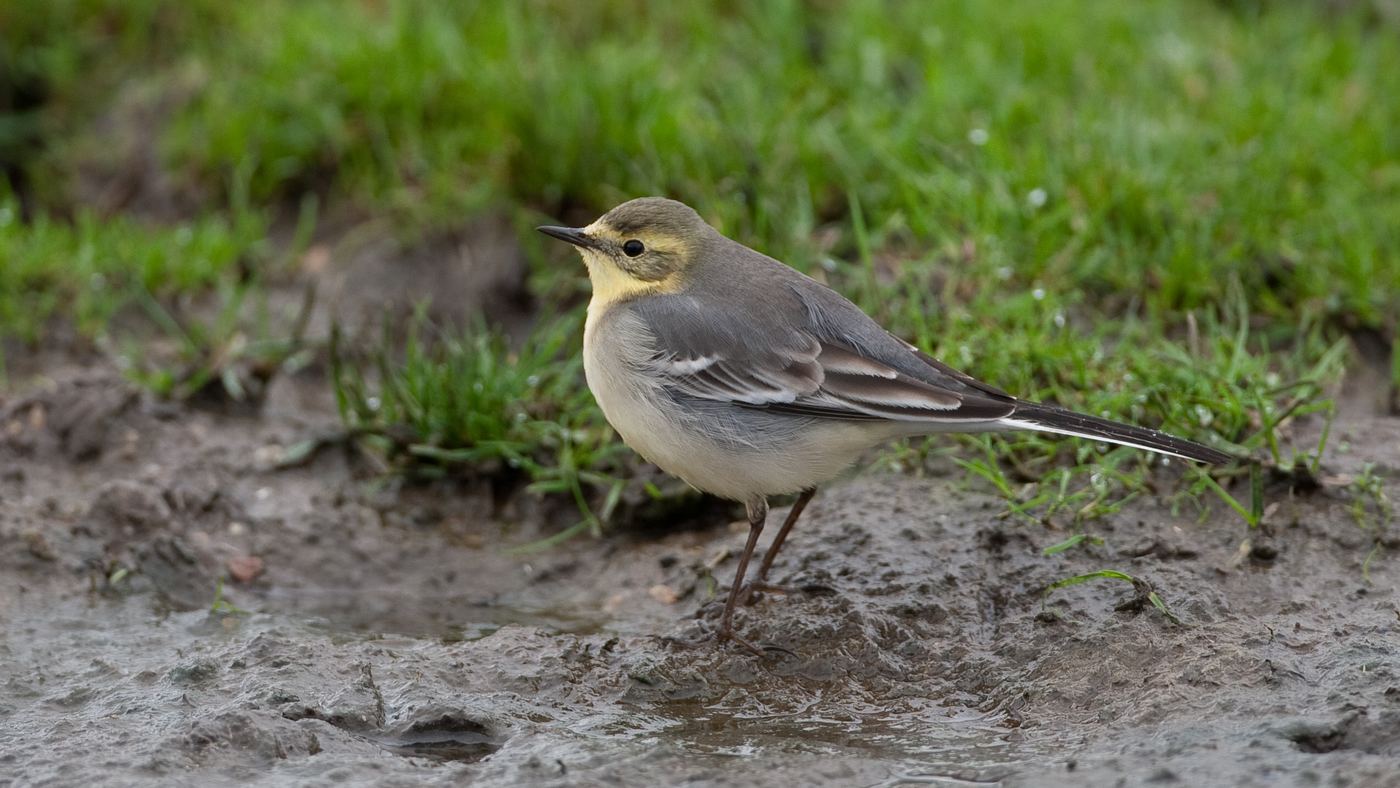 Citrine Wagtail | Motacilla citreola
The year 2010 turned out to be a good birding year for me. The desire to see 300 species in the Netherlands has been successful and my trips to Ethiopia and Morocco were extraordinary. Every year I try to score 300 species in the Netherlands.
This year I finished at 316 species, a personal best for me. 2010 began with our annual Big Day which we hold on the first of January. This year was chosen for the province of Zeeland and we recorded 103 species including species such as a Black Guillemot and a Ross' Goose. The 200th species was achieved on April 24 and was a Common Sandpiper. The 250th species was brought on May 16 this was a Pygmy Cormorant, a new species for me in the Netherlands. The 300th species of the year followed on 23th of October and was a Yellow-browed Warbler. On the 10thof December number 316 was added to the list and this was the Greater Yellowlegs.
My Dutch list significantly expanded with 15 species. I am now at 388 species for the Netherlands. This is an overview of the new species:
Baltimore Oriole
Oriental Turtle Dove
Baikal Teal
White-headed Duck
Rustic Bunting
Pallid Harrier
Surf Scoter
Pygmy Cormorant
White-Tailed Lapwing
Semipalmated Sandpiper
Barred Warbler
Greenish Warbler
Daurian Shrike
Nothern Waterthrush
Wallcreeper
Trip to Ethiopia
From January 16 to February 6, I've been to Ethiopia. A beautiful bird-rich country. We recorded 417 species with 115 lifers for me. There is still a large number of photos ready (14,000 +) to be worked upon and I hope that they will be on the site soon.

Trip to Morocco
From April 6 to April 14 I went to Morocco with the Birdwatching club Vogelwacht Uden. This yielded 160 species and 34 new species. Again I have many pictures and I hope to put them on the site soon.

Plans for this year
This year I try to do 300 species in the Netherlands The journey goes to Antarctica this time. This will be in early spring and I will be about 6 weeks on the road.
Overview of 2010 species in the Netherlands in order of date:
| | | | |
| --- | --- | --- | --- |
| 001 Eurasian Collared Dove | 080 Common Linnet | 159 White-tailed Eagle | 238 Spotted Flycatcher |
| 002 Ruddy Shelduck | 081 Great Spotted Woodpecker | 160 Mediterranean Gull | 239 Little Stint |
| 003 Eurasian Oystercatcher | 082 Hen Harrier | 161 Little Gull | 240 Wood Warbler |
| 004 European Robin | 083 Spotted Redshank | 162 Black-tailed Godwit | 241 Snow Goose |
| 005 European Green Woodpecker | 084 Purple Sandpiper | 163 Ruff | 242 Little Tern |
| 006 Northern Shoveler | 085 Black Scoter | 164 Eurasian Whimbrel | 243 Zitting Cisticola |
| 007 Red-breasted Goose | 086 Common Buzzard | 165 Little Owl | 244 Yellow Wagtail |
| 008 Eurasian Skylark | 087 Great Northern Diver | 166 Crested Tit | 245 Curlew Sandpiper |
| 009 European Greenfinch | 088 Common Moorhen | 167 Coal Tit | 246 Cetti's Warbler |
| 010 Tufted Duck | 089 Stock Dove | 168 Bohemian Waxwing | 247 Broad-billed Sandpiper |
| 011 Common Eider | 090 Blue Tit | 169 Willow Tit | 248 Common Quail |
| 012 Firecrest | 091 Common Snipe | 170 Lesser Spotted Woodpecker | 249 Arctic Tern |
| 013 Eurasian Woodcock | 092 Greater Scaup | 171 Common Crane | 250 Pygmy Cormorant |
| 014 Great Tit | 093 Great Black-backed Gull | 172 Tree Pipit | 251 Marsh Warbler |
| 015 Red-necked Grebe | 094 Goldcrest | 173 Little Ringed Plover | 252 European Honey Buzzard |
| 016 Short-toed Treecreeper | 095 Winter Wren | 174 Wood Lark | 253 Eurasian Penduline Tit |
| 017 Common Shelduck | 096 Common Ringed Plover | 175 Common Raven | 254 Thrush Nightingale |
| 018 Smew | 097 Horned Grebe | 176 European Stonechat | 255 Great Reed Warbler |
| 019 Gadwall | 098 Rock Pipit | 177 Lesser Redpoll | 256 Black Grouse |
| 020 Ross's Goose | 099 Black-necked Grebe | 178 Yellowhammer | 257 Red-backed Shrike |
| 021 Grey Heron | 100 Eurasian Magpie | 179 Great Grey Shrike | 258 Corn Crake |
| 022 Short-eared Owl | 101 Greylag Goose | 180 Northern Wheatear | 259 European Scops Owl |
| 023 Common Blackbird | 102 European Golden Plover | 181 Black Redstart | 260 American Golden Plover |
| 024 Sandwich Tern | 103 Eurasian Spoonbill | 182 Tengmalm's Owl | 261 White-winged Tern |
| 025 Song Thrush | 104 Caspian Gull | 183 Pied Wagtail | 262 White-tailed Lapwing |
| 026 Bar-tailed Godwit | 105 Pink-footed Goose | 184 Tawny Owl | 263 Pectoral Sandpiper |
| 027 Ruddy Turnstone | 106 Eurasian Siskin | 185 Barn Swallow | 264 Caspian Tern |
| 028 Dunnock | 107 Northern Goshawk | 186 Blue-headed Wagtail | 265 Melodious Warbler |
| 029 Western Great Egret | 108 Bearded Reedling | 187 Osprey | 266 Middle Spotted Woodpecker |
| 030 Long-tailed Tit | 109 Hawfinch | 188 Willow Warbler | 267 European Bee-eater |
| 031 Carrion Crow | 110 Great Crested Grebe | 189 Common House Martin | 268 Eurasian Treecreeper |
| 032 Mallard | 111 Goosander | 190 Rustic Bunting | 269 River Warbler |
| 033 Dunlin | 112 Mistle Thrush | 191 Sand Martin | 270 Red-crested Pochard |
| 034 Eurasian Jay | 113 Brambling | 192 Bluethroat | 271 Long-billed Dowitcher |
| 035 Greater White-fronted Goose | 114 Common Reed Bunting | 193 Blackcap | 272 Red-necked Phalarope |
| 036 Eurasian Sparrowhawk | 115 Eurasian Bittern | 194 Common Swift | 273 Marsh Sandpiper |
| 037 Common Chaffinch | 116 Rook | 195 Red Kite | 274 European Nightjar |
| 038 Common Pochard | 117 Rough-legged Buzzard | 196 Kentish Plover | 275 Blue-winged Teal |
| 039 Bewick's Swan | 118 Greater Canada Goose | 197 Grasshopper Warbler | 276 Iberian Chiffchaff |
| 040 Red-throated Diver | 119 Jack Snipe | 198 Common Greenshank | 277 Terek Sandpiper |
| 041 European Herring Gull | 120 Lesser White-fronted Goose | 199 Lesser Whitethroat | 278 Semipalmated Sandpiper |
| 042 Mute Swan | 121 Common Kingfisher | 200 Common Sandpiper | 279 Common Crossbill |
| 043 Common Wood Pigeon | 122 Pallas's Leaf Warbler | 201 Common Nightingale | 280 Short-toed Eagle |
| 044 Common Redshank | 123 Grey Wagtail | 202 Black Kite | 281 Gull-billed Tern |
| 045 Redwing | 124 Long-eared Owl | 203 Black Tern | 282 Northern Gannet |
| 046 Meadow Pipit | 125 Grey Partridge | 204 Purple Heron | 283 Black Stork |
| 047 Eurasian Coot | 126 Ferruginous Duck | 205 Richard's Pipit | 284 Spotted Crake |
| 048 Little Egret | 127 Baltimore Oriole | 206 Wood Sandpiper | 285 Aquatic Warbler |
| 049 Grey Plover | 128 White Stork | 207 Tawny Pipit | 286 Barred Warbler |
| 050 Eurasian Tree Sparrow | 129 Eurasian Nuthatch | 208 Ring Ouzel | 287 Cattle Egret |
| 051 Common Kestrel | 130 Oriental Turtle-Dove | 209 Eurasian Hobby | 288 Great Skua |
| 052 House Sparrow | 131 Glossy Ibis | 210 Common Cuckoo | 289 Parasitic Jaeger |
| 053 Common Teal | 132 Baikal Teal | 211 Red-rumped Swallow | 290 Barn Owl |
| 054 Little Grebe | 133 Iceland Gull | 212 Common Tern | 291 Greenish Warbler |
| 055 Red Knot | 134 Marsh Tit | 213 Eurasian Wryneck | 292 Daurian Shrike |
| 056 Common Goldeneye | 135 Hooded Crow | 214 Common Whitethroat | 293 Manx Shearwater |
| 057 Northern Lapwing | 136 Black Brant | 215 Pallid Harrier | 294 Long-tailed Jaeger |
| 058 Green Sandpiper | 137 Horned Lark | 216 Savi's Warbler | 295 Sooty Shearwater |
| 059 Pale-bellied Brent Goose | 138 Whooper Swan | 217 Whinchat | 296 Leach's Storm Petrel |
| 060 Water Rail | 139 Snow Bunting | 218 Eurasian Dotterel | 297 Sabine's Gull |
| 061 Black Guillemot | 140 White-headed Duck | 219 Garden Warbler | 298 Northern Waterthrush |
| 062 Long-tailed Duck | 141 European Serin | 220 Montagu's Harrier | 299 Lapland Longspur |
| 063 Barnacle Goose | 142 Yellow-legged Gull | 221 Grey-headed Wagtail | 300 Yellow-browed Warbler |
| 064 Great Cormorant | 143 Twite | 222 Sedge Warbler | 301 Rose-coloured Starling |
| 065 Eurasian Wigeon | 144 Bufflehead | 223 Black-winged Stilt | 302 Green-winged Teal |
| 066 Fieldfare | 145 Western Marsh Harrier | 224 Garganey | 303 Black-legged Kittiwake |
| 067 Western Jackdaw | 146 Atlantic Murre | 225 Whiskered Tern | 304 Pomarine Jaeger |
| 068 Peregrine Falcon | 147 Black-throated Diver | 226 Surf Scoter | 305 Razorbill |
| 069 Black-headed Gull | 148 Lesser Black-backed Gull | 227 Lesser Scaup | 306 Citrine Wagtail |
| 070 Pied Avocet | 149 Merlin | 228 Ortolan Bunting | 307 Desert Wheatear |
| 071 Dark-bellied Brent Goose | 150 European Shag | 229 Velvet Scoter | 308 Red Phalarope |
| 072 European Goldfinch | 151 Crested Lark | 230 European Reed Warbler | 309 White-throated Dipper |
| 073 Sanderling | 152 House Crow | 231 Common Redstart | 310 Mealy Redpoll |
| 074 Tundra Bean Goose | 153 Greater Flamingo | 232 Temminck's Stint | 311 Corn Bunting |
| 075 Northern Pintail | 154 Common Chiffchaff | 233 Eurasian Golden Oriole | 312 Wallcreeper |
| 076 Eurasian Curlew | 155 Black Woodpecker | 234 Icterine Warbler | 313 Eurasian Eagle Owl |
| 077 Common Starling | 156 Eurasian Bullfinch | 235 European Pied Flycatcher | 314 Taiga Bean Goose |
| 078 Common Gull | 157 Water Pipit | 236 Buff-breasted Sandpiper | 315 Black-crowned Night Heron |
| 079 Red-breasted Merganser | 158 White Wagtail | 237 European Turtle Dove | 316 Greater Yellowlegs |