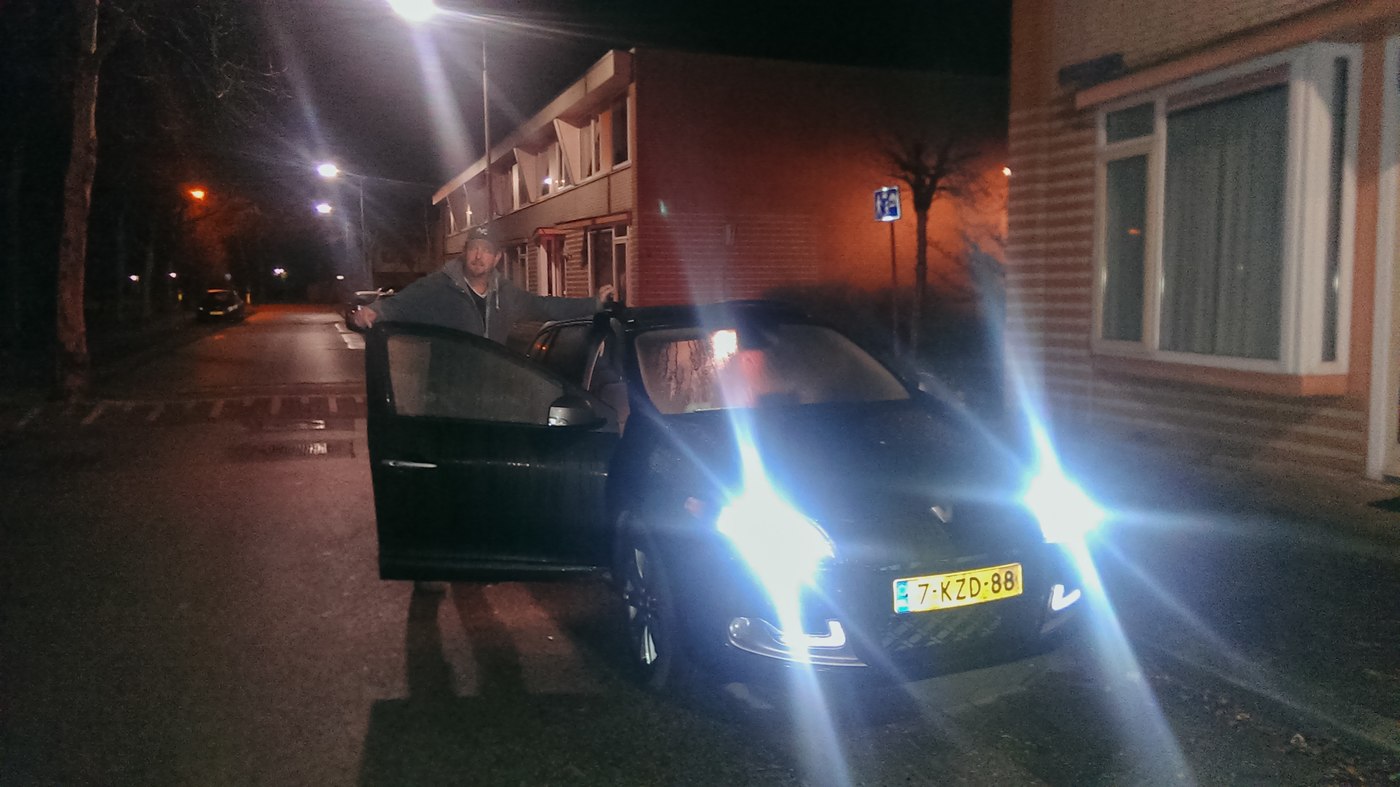 Leaving early in the morning
The year went fast and our annual Big Day on January 1 was back on the program. The team this year consists of Alwin, Pieter and Maartje and myself of course. With Pieter and Maartje I celebrated New Years and they stayed over in Uden. Alwin would pick us up at a quarter to seven in the morning. A little drowsy because of the necessary drinks I was outside around quarter past six to put some tuff in the car when I heard 2 Robin's singing in full, the first specie of the year was in the pocket.
Alwin arrived on time and before we drove towards Zealand we all four heard the Robin's, the first was on the list. Alwin was driving and I made an overview with Google Earth of all the target species and separately wrote down the GPS coordinates. We started in St. Jansteen at the same place as last year. The weather forecast was good and outside it was clear, therefore, expectations were high. During the ride it turned out that the quoted GPS was wrong and we had to turn in Antwerp. This has played a trick on us the rest of the day. Despite the loss of time we arrived around 8 o'clock at the forest, near the place where 2 Middle Spotted Woodpeckers were reported for some time now.
With the coming light we walked into the forest and immediately the first species were listed : Western Jackdaw , Redwing , Blackbird, Wren , Wood Pigeon , Canada Goose , Black Crow , Short-toed Treecreeper , Common Buzzard , Linnet , Eurasian Collared Dove, Eurasian Coot, Common Chaffinch , Blue Tit , Great Tit and Mallard . The sound of a Redpoll was pleasantly welcomed, it proved to be 4 Common Redpolls. White-fronted Geese were heard flying overhead and furthermore Brambling, Stock Dove, Goldcrest, Greenfinch, Siskin, Greylag Goose, Magpie, Jay and Long-tailed Tit were noted. After the taping of a Crested Tit we could also note this kind. Probably we waked all Crested Tits in the wood ​​because we heard them everywhere after. A Great Spotted Woodpecker was heard and a Sparrowhawk chased through the trees, a welcome specie because you can certainly miss it on a day like this.
The walk continued and suddenly we heard the sound of a Middle Spotted Woodpecker. It was Alwin that the bird saw it first, later we found a second copy. The call of a Black Woodpecker made ​​us very happy. Furthermore, we scored Black-headed Gull, Coal Tit, Dunnock and House Sparrow. The water collection brought us 36 species, we only missed Nuthatch, Hawfinch and Red Crossbill but it was time to move on. We drove to Luntershoek and en route Mew Gull and Great Egret were noted. At Luntershoek at five to ten the Cattle Egret was noted! Here we also saw Eurasian Curlew, Common Starling, Barnacle Goose, Tufted Duck, Northern Shoveler, Gadwall, Cormorant, Great Crested Grebe and Grey Heron. After some searching it was Maartje who first saw a female Common Merganser, our first ever for our Big Day.
Our next destination was the Black-winged Stilt by Ossenisse, on the way we recorded the following types: Fieldfare, Little Grebe and Tree Sparrow which we had never been on the Big Day. The Black-winged Stilt first seemed impossible to find but I finally found him on a lawn in front of the dike. Furthermore, the following types were scored here: Shelduck, Lapwing, Oystercatcher, Northern Pintail,Grey Plover, Herring Gull, Reed Bunting, Common Redshank, Eurasian Teal and Eurasian Wigeon. We drove to a spot for a Jack Snipe that we did not find, instead we found Little Egret and Dunlin. Also a place for a Little Owl was visited without success, and we set sail for the Braakman. While waiting for a red traffic light in Terneuzen 3 White Wagtails flew over the car, a super specie! We arrived at the Braakman at half past twelve and could extend the list with Peregrine, Common Goldeneye, Spotted Redshank, Pied Avocet, Goldfinch and the only Bewick's Swan of the day.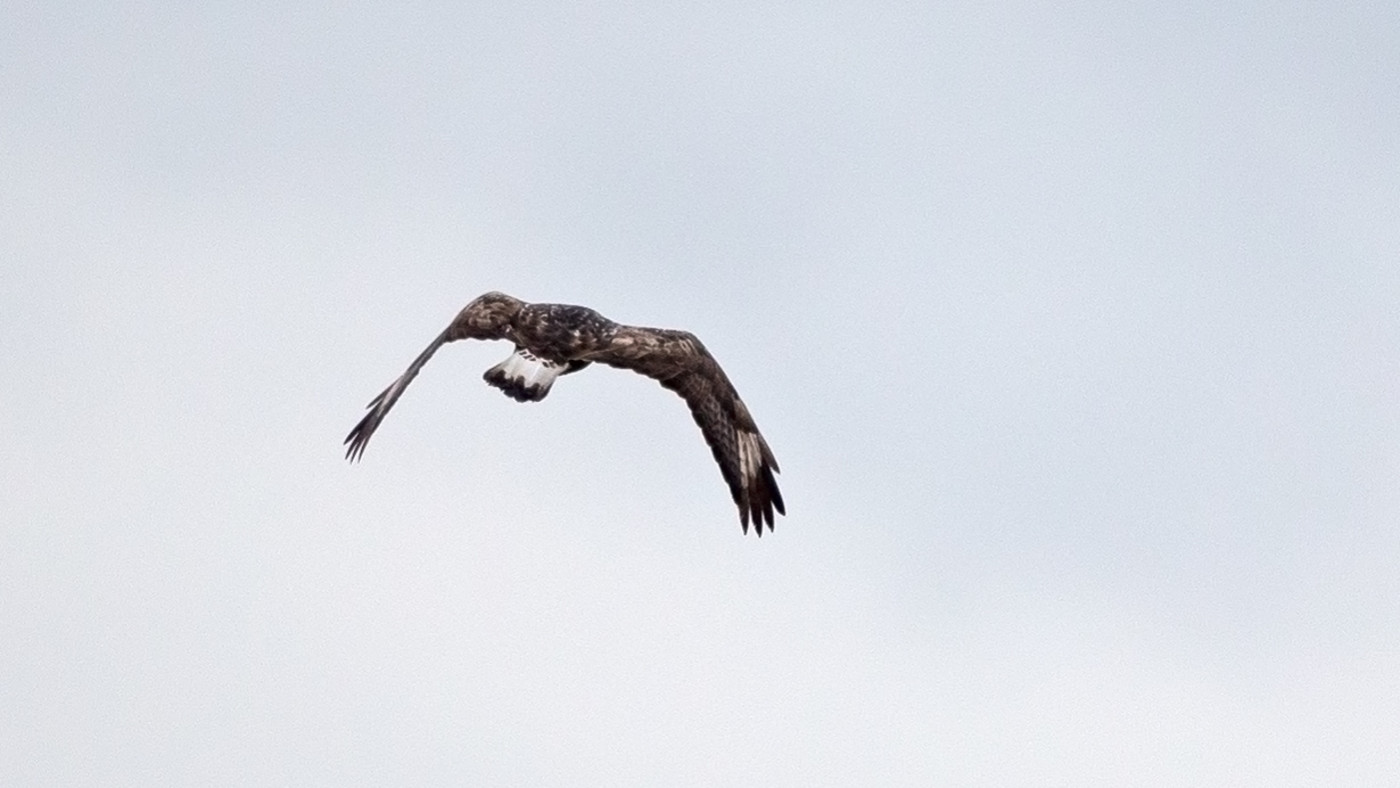 Rough-legged Buzzard | Buteo Lagopus
Next destination were the Corn Buntings at Biervliet and after some searching we saw about ten to twelve 2 copies. We also noted here Rock Pipit, Meadow Pipit and Great Black-backed Gull. After some deliberation, despite the late hour, we decided to go to the Rough-legged Buzzard at Retranchemant. After much searching and with a bit of luck the Rough-legged Buzzard came flying towards us just when we wanted to give up. We could also record Green Woodpecker and Song Thrush here. It was now ten to one, and we drove to the Blikken for the Snow Goose. This was found on the way to the Blikken in a group of Barnacle Geese which we had not expected, a windfall so. Against my better judgment, we still tried the Little Owl at the usual place at the Blikken and we were surprised when we found him almost immediately. It was now time to leave Zeeland Flanders and with some annoying detours we saw a Rook and Tundra Bean Goose before we were in the tunnel.
At half past two we drove into the tunnel and the balance was made up, the counter stood at 84 species. This was not bad, especially considering the species that were not yet on the list and not hard to do on the other islands. Almost immediately after leaving the tunnel we scored a Kestrel. On the way to Westkapelle a Moorhen and a Mute Swan were credited. In Westkapelle was sought in vain for a Black Redstart at the storage site Erica. This was to our view because of the wind that had increased tremendously. Although the wind did deliver Northern Gannet and Black-legged Kittiwake when we looked out over the sea. The Zeedijk at Westkapelle near the migration site yielded Ruddy Turnstone, Purple Sandpiper and Common Scoter. The Vroon was good for Lesser Black-backed Gull, Yellow-legged Gull, Golden Plover and Pochard.
Since we already had a lot of wading birds, and there are a number of mudflats to be visited, we decided not to do the Middelplaten of the Veerse Meer. Along the Veerse Dam where Black-necked Grebe was scored, we drove to Neeltje Jans. A search for a Shag was not successful, although we did see Red-breasted Merganser and Brant Goose. This is the first time that we do not have the Shag on list. The Black Brant at Burgh-Haamstede was not there and the Black-tailed Godwits that we expected somewhat further proved untraceable. Well did we see a Horned Grebe what was the hundredth specie of the day! Also a Spoonbill (101) was recorded eagerly here. The wind was now accompanied by rain and the day became a different character. It was decided to drive straight to the Brouwersdam because the light deteriorated rapidly.
At ten past four we drove upon the Brouwersdam and from the car we saw at close range a Red-necked Grebe (102) and two Long-tailed Ducks (103). The sluice was searched for the Great Northern Diver that we did not see, although we did note here Common Eider (104), Sanderling (105) and Red-throated Diver (106). We drove to the north side where was searched for the Black Guillemot (107). Luckily I found the bird pretty quickly which was accompanied by a male Long-tailed Duck. Back at the sluice again was searched for the Great Northern Diver. Close swam a Common Murre (108) which was eagerly noted, equalling the record was a fact. It was Alwin after a long search who found the Great Northern Diver (109) at a great distance. With 109 species, a new record was a fact. We had some light to spare and drove back to the Prunjepolder in the hope of a Smew. This did not happen and we decided to drive back to Uden where the pea soup was waiting for us.
We had a wonderful day today, if did not started to rain than there had probably been few species more. We were at least very satisfied and on the list were eight species that we did not have previously on the Big Day , Corn Bunting , Common Redpoll , Crested Tit , Coal Tit , Middle Spotted Woodpecker , Black-legged Kittiwake , Black-winged Stilt and Northern Gannet. Our total score concerning species the first of January now stands at 163 species! Next year we are going for it again.
Scores previous years:
2009 92
2010 104
2011 105
2012 108
2013 104
2014 109